What mother wouldn't love to get a handmade card from her children and perhaps an everlasting bouquet of flowers? If your mom likes Disney than a Sleeping Beauty or Bambi card, lovingly colored, would be perfect.
I have talked about Family Fun in past posts. This website has so many cool activities for children and families that you could never do them all in ten lifetimes. I find something exciting to create every time I visit. Since I get updates in my email about new seasonal or holiday ideas I am always getting inspired.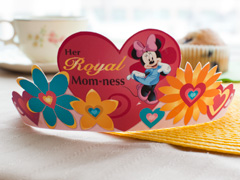 For Mother's Day they have twenty-five great ideas with a Disney twist. From cards to color, flowers to make, and ear-resistible treats to bake, there are a ton of great gift ideas for Mom. There is even a Queen-For-A-Day kit, complete with a crown. What mom wouldn't love to be queen?
I love the coupon books and gift cards. They are fun and a gift that keeps on giving. Giving the gift of time to your mom will mean more to her than a dozen red roses and a box of chocolates.
So visit the Mother's Day craft page at Family Fun and help your kids make Mother's Day her most special day ever. Happiness squared.
Goofy Tip: Spread the love on Mother's Day. Make Minnie Mouse paper flowers for a grandmother. Do you have a favorite aunt, or a special neighbor? Strawberry rosebuds would be enjoyed by anyone who is like a mother to you. Mother's Day is a great time to express your love and affection with a unique gift that you made yourself.
Other posts with great holiday printables from Family Fun: