When the kids are bored this November and can't go outside because of the weather, print out some the neat crafts from the Family Fun website. Mickey Mouse and the gang have been busy thinking up some great Thanksgiving activities. These Printable Thanksgiving crafts  range from baskets and centerpieces to cut and fold to coloring sheets and games. Hours of fun can be found for just the price of a few pieces of paper.
I made the Chip and Dale basket one afternoon. What is neat about this craft is it comes with several leaves and acorns for you to cut out. Have everyone write what they are thankful for on the back of a leaf and then put the leaves in the basket decorated with our two favorite chipmunks. On Thanksgiving Day pass the basket around the table and have everyone read one leaf. Remembering what you are thankful for makes the day much more meaningful.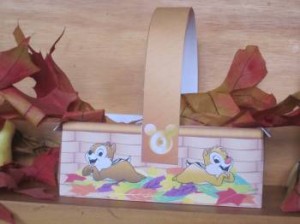 Along with the crafts there are helpful printouts for parents. The Thanksgiving planner has room for grocery lists, the Thanksgiving menu, chores that need to be done, and a Thanksgiving Day hour-by-hour schedule. Another helpful printout makes clever Mickey labels for everyone's glass or cup. Make one for each of your guests and you'll cut down on your dish washing or plastic recycling.
So to stop the boredom monster from ruining your afternoon and check out these crafts. Everyone will have fun creating a very Disney Thanksgiving.
Goofy Tip:  Does someone in your family have a November birthday? A lot of these crafts would make great party favors. For even more fun have the guests make their own. From pilgrim hats to princess crowns these crafts would make any party more festive. There are even invitations that you can use. They have Mickey and Minnie on them and will get any child excited for the party.