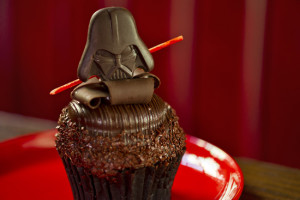 Star Wars Weekends have come to Disney's Hollywood Studios. If you are a mega Star Wars fan you won't want to miss these fun events where you can meet various film and voice stars from the movies and cartoons. There is special merchandise and special food. However, beware the Darth Vader cupcakes.
Remember when your parents told you not to play with your food. Well, if you have ignored that advice then you can work for Disney. In honor of Star Wars Weekends they have created a short featuring the Darth Vader cupcake. There is a reason that they call it Devil's Food cake. Check out the making-of video and then enjoy the short. It will make you think twice before buying a cupcake. I might try the Olaf cupcake instead. Happiness squared.
Goofy Tip: If you do not love Star Wars then check out the schedule and plan to avoid Disney's Hollywood Studios on those weekends. You can enjoy the parks on those days but why bother with the crowds when you could be at the Magic Kingdom. On the other hand, if you like Star Wars but don't plan on joining in the fun this could be a good time to visit Disney's Hollywood Studios just to people watch and soak up the Force. Your choice.