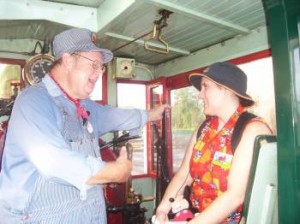 Welcome to my Disney blog. I'm so glad that you stopped by and I hope you have a happy time reading my various posts.
Why did I start A Goofy Idea?
I love visiting the Disney parks and found myself giving my friends, family and co-workers advice on how to have a great time during their trips to the parks. I wanted to provide this information to everyone, thus A Goofy Idea was born.
A Goofy Idea is for everyone
A Goofy Idea is geared toward the typical Guest who wants to have a happy time at the Disney Parks, but is a little overwhelmed. I am not going to discuss a lot of the behind-the-scenes of Disney because, while it is interesting, it is not information that will help most people have a happy time on their trip. If this is your first trip I hope my posts will help you have a trip you will always remember, because it was so happy.
Happiness squared
This blog is a happy blog (you might have guessed that from the number of times I have used the word happy in this introduction). We live in a world filled with hurt and unhappiness. Walt Disney called Disneyland "The Happiest Place on Earth." My hope is that A Goofy Idea will be the happiest website on the internet. (That is why it is "a goofy idea.")
To make this possible I need your help. I love getting comments, but I would prefer that you talked about positive topics. There are lots of websites that deal in the good, the bad, and the ugly of Disney. I hope that like the Disney parks, A Goofy Idea can be a bright spot of happiness that people visit to get a break from the real world.
Why me?
So who am I? What gives me the right to create a Disney website? Well, I grew up near Disneyland and visited often. Since becoming an adult I have visited Walt Disney World often also and run three half marathons through Run Disney. More importantly I love Disney. Anyone who travels to the parks with me is going to get an indepth tour and have a happy time. I can't take everyone to the parks, but hopefully through my blog you will bring some of my enthusiasm with you on your trip.
The Disclaimer
My blog has no connection to any official Disney enterprise. Everything that I write about is either from my own experience or researched by me. I love Disney and would love to be an Imagineer some day, but as of right now A Goofy Idea is completely separate from the official Disney universe.
A few of my favorite posts
If you are new to A Goofy Idea and wonder what I am talking about check out the following posts. They are a few of my favorite ones from the past year.
A Word Can Be Worth A Thousand Pictures
What's In Your Disney Bucket List?
I'd love for you to subscribe
And by all means, if you like what you read, subscribe to my blog and get my posts in your e-mail. I write posts Monday, Wednesday, and Friday. I appreciate your support. You can also like me on Facebook or follow me on Twitter. I promise not to overwhelm you.
Subscribe to A Goofy Idea by Email
Thank you!
Thank you for reading all this. I hope you come back for the next cheerful installment of A Goofy Idea. Happiness squared.
TTFN Jennifer