Today is Martin Luther King Jr. Day and as we all know he gave the "I Had a Dream" speech. For most of us goals are dreamt up on New Year's Day and then promptly forgotten. I had a big goal that I just completed and it has geared me up to work on other dreams and goals I have. So I ask you, have you forgotten your New Year's dreams and goals already? Have you slid back into the life you had in 2011? If so, then here is your second chance to revive your goal. Today I want you to dream big.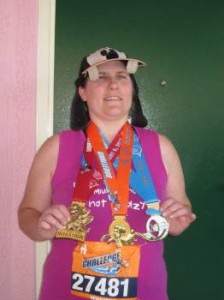 Ever since doing my first Princess Half Marathon at Walt Disney World in 2009 I dreamed of running the Goofy Race and a Half Challenge. To finish the Goofy you have to run both the half marathon and the marathon during the Walt Disney World Marathon weekend. The half marathon is run on Saturday and the full is run on Sunday. I knew I could do the half, but I had only done one full in my life and it was really hard. Still, I knew I wanted the Goofy medal and so I started planning. In June 2011, I signed up for the Goofy. I trained hard, and had setbacks, but when it was time to go I found out that I had the determination and endurance to finish. I earned my Goofy medal on January 8, 2012, and my dream came true.
So I say to you, don't let your dreams escape. If they are big dreams, then start with small steps. I have read that goals are dreams with deadlines. So give yourself a deadline. Make sure it can't be changed and that other people know about it. Make it a "DEAD" line and you will find the determination to succeed. My next big Disney dream is to run in the Disneyland Half Marathon in September, 2012. By doing both events in one year I will earn the Coast to Coast medal. This is my big dream.
So start again. Today. Pick a dream. Set a deadline. Achieve your goal. One step at a time.
Goofy Tip: If you think running in the parks might be fun, but a long race is too much then check out Run Disney. There are races from 5K to marathons throughout the year and even races for the whole family. Disney is a place where dreams come true.