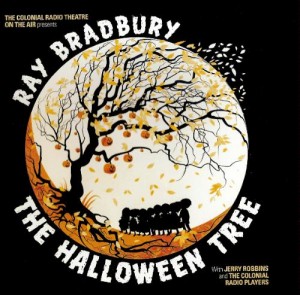 Ray Bradbury, one of the greatest authors of all time, passed away on June 5, 2012 at the age of 91. He is one of my favorite authors in any genre. The first time I encountered the magic of his stories was in Mr. Gardner's junior English class in high school. A short story from the The Martian Chronicles
called Usher II was published in our textbook. I read it dozens of times and couldn't wait to read more of Ray Bradbury's works. Fahrenheit 451
 taught me not to take books and reading for granted. Something Wicked This Way Comes
scared me to pieces. My all-time favorite Ray Bradbury book is the The Halloween Tree
. I discovered it just a few years go but now I reread it every October.
Even though I am huge Ray Bradbury fan I didn't think I would talk about him on A Goofy Idea, but then Christina posted on my Facebook wall and asked, "Can you write something about Ray Bradbury's connection to Disney?  I knew one fact the connected Ray Bradbury and Walt Disney so I decided I could do a post. It turns out Ray Bradbury and Walt Disney were great friends and Ray was involved in the Disney Company all his life. I think it is wonderful that these two ultra-creative men were friends. They both left a valuable legacy to the world.
5 connections between Ray Bradbury and Walt Disney:
1) Ray Bradbury and Walt Disney often had lunch together and talked about the past and the future.
2) This one was news to me. Ray Bradbury helped design Spaceship Earth, the icon and wienie of EPCOT, and he penned the original story for the attraction inside the geodesic sphere.
3) Walt Disney made the film Something Wicked This Way Comes from the screenplay Ray Bradbury wrote.
4) Even after Walt Disney died Ray Bradbury spent a lot of time around the Imagineers.
5) This is my favorite story. On Halloween night 2007, Ray Bradbury was honored with his very own Halloween Tree in Frontierland at Disneyland. This was done to celebrate the 35th anniversary of Ray Bradbury's book, The Halloween Tree.
If you want to read more about the special connection between Ray Bradbury and Walt Disney click here for a wonderful article out of D23. Farewell, Ray Bradbury.
Goofy Book: Okay, I have mentioned it twice already, but I am going to mention it again. Go get a copy of The Halloween Tree
and read it. It is very different and very Bradbury. Few intelligent stories are written about Halloween. There are lots of fun ones, but intelligent ones are rare. This story is intelligent and fun with just the right amount of spookiness. It would make a great Disney Channel Halloween movie. Happiness squared.