This is the third of three simple ideas. These are not Goofy Ideas because they are universal ideas, not just Disney ideas. Number one was: Read. Number two was: Ask. Number three is: Listen.
There is a lot of sound at the Disney Parks. Themed music plays in each land, and laughter and screams of delight come from other guests. Even your own conversation may add to the mix. All this can make it hard to hear instructions from cast members and recordings, but that is the trick to a happy visit.
Millions of guests ride the attractions every year. The cast member's job is to ensure that the guests have a fun and safe time, while moving them through the attraction as efficiently as possible. By listening to instructions you can help make sure that your group, and everyone around you, has a great time at the parks.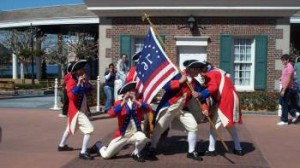 One example of this is in theatre attractions like Muppet Vision 3D at Disney's Hollywood Studios, or The American Adventure at EPCOT. These are popular attractions and cast members work hard to seat as many guests as possible. That means that when you enter the auditorium the cast member will tell you to move all the way to the end. There is not a bad seat in the house, yet some guests do not listen and stop in the middle. Cast members then have to repeat themselves and guests sometimes get upset. By listening and realizing that everyone has a good seat, both the guests and the cast members will be happier.
So how do you have a great time in the parks? It's simple. Read. Ask. Listen. That's happiness squared (or tripled.)
Goofy Tip: We all love to be first in line, but at theatre style attractions it is better to be in the middle. No matter when you arrive for the show let other people go through the doors ahead of you. Then when everyone is told to go all the way to the end of the aisle you will end up in the middle. Also when you enter the auditorium, pick an aisle that has other people in it so that you don't end up on the end if you don't want to. Remember though, there are no bad seats, only your personal preference.