First, a correction. Hayley Mills turned 66, not 56 on Wednesday. Thank you, Lynda, for catching my error. I hope Hayley Mills enjoyed being younger for a couple days. On to today's post.
One of the things I love to do is introduce people to new ideas. So when I visit the Disney Parks I have a Disney word that I teach my group each day. It is a word they can use throughout their visit and is a great way to get to know the parks better. They realize that what they see was carefully thought out, and yes, given a name.
Today's Goofy Word is: Dark Ride
According to The Imagineering Field Guide series Dark Ride is "A term often used to describe the charming little Fantasyland attractions housed more or less completely inside a show building, which allows for greater isolation of show elements and light control, as needed."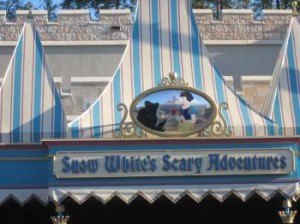 Somepeople may think that Fantasyland is just for little kids, but Walt Disney did not design it that way. He wanted the attractions to be enjoyable for both children and adults. I think the dark rides achieve this. On the surface children get to go on a ride and be with their favorite Disney characters. But the ride has lots of hidden meaning for adults, too.
One of my favorite dark rides is The Many Adventures of Winnie the Pooh in the Magic Kingdom at Walt Disney World. This dark ride replaced Mr. Toad's Wild Ride, much to the anger of many Disney fans. I loved Mr. Toad's Wild Ride, but I am such a huge Pooh Bear fan that I was not upset by it's replacement. When you ride The Many Adventures of Winnie the Pooh you may notice that Mr. Toad is not completely gone. Toward the end there is a scene where he is handing over a deed to Owl. This addition was not necessary for children to enjoy this dark ride, but it adds a bit of plussing for the adults.
So the next time you are at the Disney Parks go on a dark ride in Fantasyland. They are designed for both children and adults to enjoy.
What is your favorite dark ride?
Goofy Tip: Some people think that if you go to Disneyland then there is no reason to visit the Magic Kingdom, and vice versa. This is not true. There are lots of rides that exist at only one of the parks, and this is especially true for the dark rides. Below is a list of the dark rides at Disneyland and at Walt Disney World. As the New Fantasyland in the Magic Kingdom is completed this list might change. All the more reason to visit both parks.