I wanted to do a post about the hidden gems of the World Showcase in EPCOT, but I could not decide which gem to write about so I am going to do a series of posts called World Showcase Wonders. I'll highlight one gem in each pavilion. These are features that people might not notice as they hurry from store to store and restaurant to restaurant. At the end of this series I'll have a downloadable brochure that you can print out and take to the parks so you can see of these gems for  yourself. Today we are in the United Kingdom.
There are lots of great stores in the United Kingdom Pavilion and the Rose & Crown Pub is a great place to eat. The secret that I discovered was Winnie the Pooh. In the The Toy Soldier toy store there are lots of British toys like Winnie the Pooh and Paddington Bear, but if you explore a little further you might find the real thing.
Characters appear in many of the World Showcase pavilions and if you want to know exactly when they will be appearing you can check out the EPCOT Times Guide found at the entrance to EPCOT. But there is a reason that Winnie the Pooh is a hidden gem. Most of the characters appear outside, where guests can notice them as they are walking to each pavilion. Winnie the Pooh and Tigger were in a side room inside the toy store.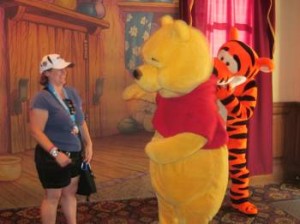 When we discovered they were appearing in the store there was NO LINE to get a picture with them. NO LINE for Winnie the Pooh?!? I have very few pictures with the cuddly bear because he is a very popular character. Had he been outside we probably would have skipped him again because of the line. Since he was in an unexpected place, not only did I get my picture with Pooh, but I got to have a conversation with him about the race I had just finished.
So keep your eyes open when you are inside the pavilion buildings. You never know what life-size gems you might find.
Goofy Tip: The Kidcot Fun Stops are a great way for kids to explore the World Showcase. Each pavilion has one and the kids get to do an activity at the station. Cast Members from that country help out at the tables so the kids get to met people from around the world as well as make something fun and memorable.