Limited Time Magic: I love it when companies ask my opinion and from now until January 31 Walt Disney World wants yours. Click on this link and vote for the 2014 merchandise design. The three choices are all fun, but I like option one the best. If you agree then vote. if you don't agree then vote. It takes no time and you're opinion is always valued.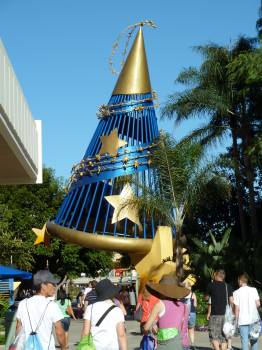 There are two types of people in the world – those who get lost and those who don't. I am the former. If I have a map and I am paying attention then I can get anywhere. But my mind tends to wander and I am easily distracted (squirrel!) so I often find myself somewhere other than where I planned to be. While this usually isn't a problem and I discover many wonderful things sometimes I really am trying to get somewhere at a certain time. How do I keep myself on course? I use landmarks.
This is especially easy to do at the Disney parks because there are many distinct objects that can be used as landmarks. When I was staying at the Disneyland Hotel last summer I often forgot how to get out of the hotel area and into the Downtown Disney area. The hotels are very tall and hide the outside world. Luckily, there was a handy landmark. Between our hotel and Downtown Disney there was a large sorcerer's apprentice hat covered in stars. All I had to do was see this hat and I knew which way to go. It was nice to be able to wool-gather and not get lost.
I try to use landmarks wherever I go. If you are like me and often wander off the beaten path, try finding your own landmarks. And remember, not all who wander are lost. Happiness squared.
Goofy Tip: If you are a runner, or have ever wanted to run in a Disney event then I have ultra-fun news for you. Disney has added a 10K to the Disneyland Half Marathon weekend that takes place on Labor Day weekend. Along with the 10K they have created the Dumbo Double Dare, a special medal for people who run both the 10K and the half marathon.
This is a similar event to the Goofy's Race and a Half Challenge that takes place at the Walt Disney World Marathon weekend. To earn a Goofy you have to run the half marathon on Saturday and the full marathon on Sunday.
I think the Dumbo will become a coveted medal. In fact, the all the spots for all the 10K, the Dumbo, and the Disneyland half marathon for 2013 filled in 26 hours. I finished the Disneyland Half Marathon in 2012, but now that I know about the Dumbo Double Dare I will be signing up in 2014 the moment it opens.