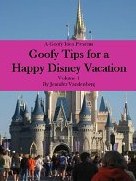 One of my goals for A Goofy Idea is to provide quick tips that can be used while you are visiting the parks. That is why I add the Goofy Tips at the bottom of my posts. But how are you going to remember these useful tips while you are at the parks? I have made that easy by collecting them all into one book.
Goofy Tips for a Happy Disney Vacation
 is an online book only available at Amazon. Do you have an Amazon Kindle or Fire? You can read my book! I don't have a Kindle (I love my Sony Reader) but I still enjoy lots of Amazon ebooks with their free Kindle app. This app allows you to read Amazon ebooks on your computer, smart phone, or tablet. With this app my book becomes very portable.
My ebook Goofy Tips for a Happy Disney Vacation
is only 99 cents and is has over 150 tips, facts, and jokes to make your trip to the Disney parks as happy as possible. If you would like to buy the book or read a sample then click on the title above and you'll be taken to amazon.com. While at Amazon you can download the kindle app for free so you can read this quick useful book anywhere.
I hope this book is helpful to you. If you have comments, or find mistakes, please contact me here. If you enjoy A Goofy Idea why not spread some happiness to your friends and family and let them know about this new way to get more Goofy tips. Happiness squared.
Goofy Tip: I don't have a smart phone, but I do have an iPod Touch. This device used to be useless at Walt Disney World, but in 2012 they finally got WiFi in all the resorts and all the parks. Now I can use the Disney apps and read ebooks while standing in line at the parks. It's a great time to browse my goofy tips.