We'll take a ride on an old horse car  I'll buy you a chocolate bar And you'll be the sweetest girl by far Down on old Main Street   Lyrics to "Meet Me Down on Main Street"  
Main Street, U.S.A. is often the forgotten land. We might browse through some stores, watch a parade, or grab a baked good, but I think for most of us, the walk up Main Street is simply a way to get to the rides. In my new series, Meet Me Down on Main Street, I am going to slow us down and take a closer look at the details waiting to be discovered. Come stroll with me as we explore Walt Disney's dream. Today we are riding the vehicles.
The most direct way to get from one end of Main Street, U.S.A. to the other is by foot, but it is not the most fun way. For a relaxing ride, or an exhilarating trip to the past, try out one of the vehicles that travel up and down Main Street, U. S. A.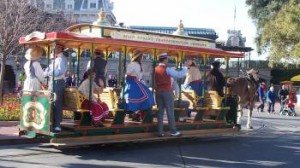 There are a variety of vehicles to ride that were around at the turn of the 19th century. Horse-drawn trolleys compete with jitneys (vintage automobiles), and double-decker buses. Hear the siren? The fire truck is coming to the rescue.
Back in the days when Disneyland had tickets for various rides the Main Street vehicles would have been an A ticket, which is the lowest one. What a great value! Pick a vehicle and arrive at the exit or the Hub wind-swept and impressed. Those old vehicles can really move.
Goofy Trivia: There are two cross streets on Main Street, U.S.A. The one closest to Town Square is Center Street, since it is almost dead center in Main Street. The other one, almost at the Hub, is Plaza Street. The streets are not labeled, but take some time to go down them. They hide many curious secrets.