This guest post is by Christina Singhi. She and I have been friends since elementary school and have many fond memories of visiting Disneyland together. She still visits Disneyland often with friends and family. I am thrilled to have her guest blogging on A Goofy Idea.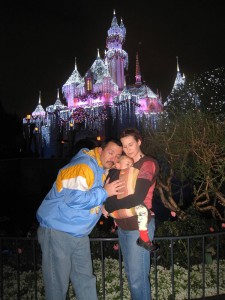 I love Disneyland – Stroller Free!
Yes, you read that right, I said "stroller free".  Being raised in Southern California, Disneyland is as much a part of my life as cheese is to the French.  Some of my best memories are with my family at Disneyland as a child, in college, when I worked at Disneyland, and as a parent taking my daughter to Disneyland.  However, one thing I do not like is strollers at the park.  I dread the "sea of strollers" that you see in front of most attractions and trying to maneuver between thousands of people pushing strollers  throughout the park.  My husband and I even tried taking our stroller to Disneyland, once, and we have not made that mistake again.  We go often, at least a handful of times a year, so we've had many opportunities to "brave the park, stroller free".
There are many reasons to not take a stroller to the park. In my favorite picture of me as a child at Disneyland I am about 4 years old and I am sitting on my dad's shoulders pointing at Sleeping Beauty's Castle.  When I ask my dad about that picture he always says, "you wanted to see everything, you were so excited, there was no way I could get you to sit in your stroller."  That got me thinking, if my child is sitting in a stroller, then she gets a great view of what? The back of legs and people's butts.  Is that what I wanted for my child?  No.
So, what is the alternative to the stroller – baby wearing! When I wear my daughter she can see the world.  Walking down Main Street she can see the Castle getting bigger as we approach, she shouts and points at things with excitement, and I can hear all of her gasps of excitement, and all of the questions she has about everything.  I am not leaning down trying to hear her in the stroller, I am not worried about hitting the person in front of me, and I am not frantically searching for stroller parking; instead, we are experiencing everything together.  When she is sleepy she gets to be close to me and has the warmth of my body to comfort her.  And, the entire time, I have both hands free.  The experience is better for all of us.
When she was too little to understand where we were or what was going on, I kept her snuggled on my front, so she could nurse when she needed to, nap when she needed to, and be shielded from all of the external distractions she would have encountered in the stroller. With both hands free my husband and I could hold hands as we strolled through the park together and share the experience as a family.
So, what are the down sides?  First, it means you have to pack lighter.  I have a diaper bag with a very wide strap that goes across my body (and across the carrier) so I have everything I need close to me.  If my husband is with us, then he also carries a back pack with any extra items we may need.  We generally eat in the park, so the only food we pack are light snacks and water.  Second, it means you need to do all of your park shopping at the end.  We go so often that we rarely purchase souvenirs, but when we do, we save our shopping until the end.  The last time we went we purchased a "Holiday Lightning McQueen" kids meal early in the day and I just clipped the handle of the plastic car to hang from the diaper bag.  Finally, it means you have to have the right carrier.  This is very important, because the number one negative comment I get when people see me wearing my daughter is "doesn't that hurt your back?"  The answer is a resounding "no".  I have a carrier that fits me and my daughter perfectly and distributes her weight so that my back does not hurt.  I've been wearing her since birth, she is now 2 ½ years old and I am still wearing her pain free.  I've had to upgrade carriers along the way, from a simple ring sling or a mei tai to an Ergo as she wanted to get out and walk on her own a little, to the toddler sized Tula that I wear now.
I'm thankful for baby wearing because it lets me and my daughter explore the world upright and hands free – and Disneyland is one of the many exciting parts of our world!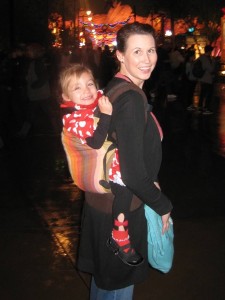 Meet today's guest blogger: Christina Singhi is a fairly liberal, slightly crunchy, oatmeal mamma and is a native Californian.  She earned her BA in English from the University of La Verne and her MS in Educational Leadership from CSU Fullerton. She has been working in education for over 12 years and is currently an English teacher and department chair at a public high school in California.  In her quest to be the best mom she can be, Christina has discovered that her love of food and gardening can play a big role in how she cultivates her family.  You can read about her natural parenting quest at www.cultivatingthewonder.blogspot.com.
Goofy Websites: (If you want to learn more about baby wearing then check out the following links. And let me know what you thought of this guest blog by clicking on the button below, or leaving a comment on at A Goofy Idea.)
Babywearing Safety:  http://www.babywearingschool.com/babywearingsafety.htm
Southern California Resource for purchasing baby carriers and getting information:  PaxBaby:  http://paxbaby.com/
A place on Facebook to get information and support: Babywearing Love and Support:  https://www.facebook.com/groups/377237985638946/
An interview with Jillian from Paxbaby on going to Disney with multiple children and no stroller:  http://www.loveourdisney.com/2012/12/wear-your-baby-in-disney-interview-with.html
Christina's Blog: http://www.cultivatingthewonder.blogspot.com/