In this new series I suggest attractions at Walt Disney World and the Disneyland Resort that will appeal to those Guests who dislike traditional amusement park rides. There may be many reasons why someone can't or won't get on a ride. They may be too short, too heavy, or too big. They may have medical problems or be pregnant. Or they may just dislike fast rides and long lines. No matter the reason everyone deserves to have a happy time at the Disney parks. The following attractions can be enjoyed by everyone and may even bring a smile to the most reluctant Guest. Today we will explore the World Showcase at Epcot.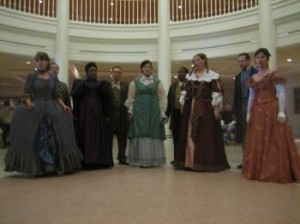 If you do not enjoy going on fast rides or standing in long lines then the World Showcase in Epcot should be your first stop. This area is divided up into pavilions, each one focusing on a different country. Not all the pavilions have attractions, but they all have great restaurants and shops. Plus they have amazing shows that bring the culture of each country to life. There are many great things to see in the World Showcase, but I have picked five sure to impress the most skeptical Disney Guest.
5 World Showcase attractions for people who hate rides:
1) O Canada. 360 degree movies are great fun to watch. You feel as if you are actually moving through the scenery (which is why they give you rails to hold on to). This 360 degree movie has amazing scenery, great music and actor Martin Short, a humorous narrator who guides you from one end of this gorgeous country to the other. I am always ready to book my trip to Canada after seeing this movie.
2) Matsuriza: The Japan Taiko Drummers. All of the pavilions at the World Showcase have wonderful entertainment. The drummers at the Japan Pavilion are my favorite. The precision drumming is fascinating to watch and the rhythmic sounds takes you to faraway places. Check your event schedule and plan to arrive a few minutes early so you can get a seat with a clear view.
3) The American Adventure. This is a three part show that will have you swelling with American pride and with good reason. We have a complicated history, but through it all we have been a nation of diverse people trying to do our best. Check the event schedule so you arrive in time to see the Spirit of America Fife and Drum Corp and the Voices of Liberty before the main show.
4) Reflections of China. Most of us will never get to visit China (though it is definitely on my bucket list) but with this 360 degree movie we can get a flavor of this immense and diverse country. I love shows that take me out of my element and show me something new and exciting. This movie does that perfectly with a breathtaking combination of scenery and music. It is a winner.
5) IllumiNations: Reflections of Earth. Fireworks shows are always amazing at the Disney Parks, but this one is the only performance that also has a floating screen that shows the past, present, and future of our planet in stunning pictures. Add lasers, water effects, and pyrotechnics and IllumiNations becomes an unforgettable show.
To make your trip around World Showcase more meaningful why not collect something at each pavilion to remind you of your trip. It could be postcards or pressed pennies, pins or pictures. The item doesn't have to cost a lot, but it makes the journey more interesting when you are also on the hunt for a special memento. Happiness squared.
Goofy Tip: If you are not interested in seeing any shows or riding any of the rides in the World Showcase you can still have a great time if you visit during the International Flower and Garden Festival in the spring or the International Food and Wine Festival in the fall. There are a ton of things to see, foods to taste, and programs to participate in during these emmersive festivals. And you won't have to go on any rides.