In this new series I suggest attractions at Walt Disney World and the Disneyland Resort that will appeal to those Guests who dislike traditional amusement park rides. There may be many reasons why someone can't or won't get on a ride. They may be too short, too heavy, or too big. They may have medical problems or be pregnant. Or they may just dislike fast rides and long lines. No matter the reason everyone deserves to have a happy time at the Disney parks. The following attractions can be enjoyed by everyone and may even bring a smile to the most reluctant Guest. Today we will explore Disney California Adventure.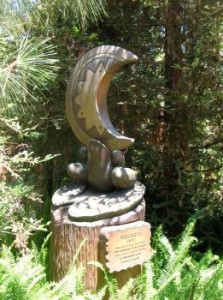 Disney California Adventure is known for its fast rides. It is the only park with a traditional roller coaster and a Ferris wheel. If you don't want to go on any fast rides you might think of skipping this park. Instead I would suggest enjoying the other things the park has to offer. There are some great shows and restaurants that you will only experience at Disney California Adventure. Every park has something for everyone and this park is no exception.
5 Disney California Adventure attractions for people who hate rides:
1) Walt Disney Imagineering Blue Sky Cellar.  Have you ever wondered where Disney gets the ideas for the attractions and entertainment found in the parks? Do you want to know what new attractions are being designed right now. Then head over to the Blue Sky Cellar. Along with a great movie about how Walt Disney Imagineering works you'll see notes and drawings of future attractions. There's always a reason to visit the parks again and again.
2) Animation Academy. Come join a Disney animator and learn to draw a classic character. Lessons are taught on the half hour and the hour and are designed for beginners and experts. If someone with my lack of drawing talent can successful sketch Mickey Mouse then you know these animators are amazing teachers. As a plus you get to take your drawing home and show off your amazing new ability to your family and friends. 
3) Disney's Aladdin – Musical Spectacular. There is a lot of duplication in the parks and I'm glad for it because it means I get to see my favorite attractions time and time again. But sometimes it is cool when something magical is only found in one place. This Broadway style musical is filled with all the fun and wonder of the movie. From the crazy lines of the Genie to the magic of flying carpets this is one show I would never miss. You'll be humming the songs from Aladdin all day, not a bad thing at all.
4) Muppet*Vision 3-D. In regular 3-D you laugh when a snake jumps out of a can at you. In Muppet*Vision 3-D you get wet when Fozzie squirts his flower at you. How do they do that? It's Muppet magic and this movie is filled with it. Muppet*Vision 3-D is humor on top of disaster with a touch of chaos just to add to the laughs. I'll see you there.
5) World of Color. This is the newest nighttime show that Disney has developed and it is one of the best. Huge sheets of water act like a movie screen to display all your favorite characters. Other water features combine with light, fire, and music to create a World of Color. I would recommend either getting a FastPass for this show or combining it with a dinner package so you get the best viewing spot possible. Whatever you do, don't miss this show of all shows.
Disney California Adventure proves that adventure can come in many different forms. Look beyond the thrill rides and discover all that this park has to offer.
Goofy Tip: Cars Land has just opened and it is the place to visit. Even if you are not into fast attractions go and wander around the area. You'll feel like you stepped out of Disney California Adventure and into Radiator Springs. While there try some of the original drinks based on the movie. It is a fun area with something for every Guest.