Do you know ROY G. BIV? Good ol' Roy isn't a who, but a what. It is how you can remember the colors of the rainbow: Red, Orange, Yellow, Green, Blue, Indigo, Violet. I was thinking about these colors the other day and it made me think of Disney princesses. Certain princesses are known by their color; either the color of their hair, the color of their gown, or some other defining feature. So for seven posts we're going to have fun exploring the colors of the rainbow, Disney princesses, and fun activities connected to them. Today we focus on yellow which reminded me of Belle.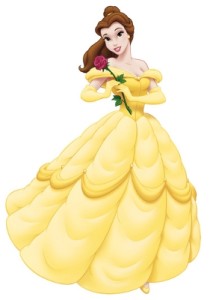 Belle is best known for the yellow ball gown she wears when she dances with the Beast. I love Belle because she is a reader, but my favorite outfit of hers is the blue one she wears in the beginning of the movie. She wants an adventure and I think it is hard to do anything except dance in a beautiful gown. Gowns have their place, but I would pick something different when going on an adventure.
5 fun facts about Beauty and the Beast:
1) Walt Disney tried to make Beauty and the Beast in the 1930s and the 1950s, but he never found the right format. I guess the third time was the charm.
2) When Belle is in the town she is the only character wearing blue. When she meets the Beast he is also wearing blue. Gaston wears red, thus showing that he is the villian, not the Beast.
3) Most of the gargoyles on the Beast's castle are earlier versions of the Beast.
4) The Beast's name is Prince Adam.
5)  This was the first Disney animated film to have a pop remake of one of the songs performed during the credits. Now it is commonplace.
Books and adventure go together like Beauty and the Beast, I guess that is why Belle likes both. If you are interested in having an adventure then Belle would be a great teacher.
5 ways to find adventure like Belle:
1) Start with a book. Belle loved to read and reading is a great way to find adventure. I like to find books about a topic I know nothing about. Then my imagination can go on an adventure with the author. This works for both fiction and non-fiction so for a grand adventure visit the library.
2) Explore your house. You may think that there is nothing adventurous about your house, but I like to explore where I live. I open file drawers I haven't opened in years, or I look through albums I rarely flip through. Most people have so much stuff that we don't interact with most of it very often. I discovered a book on my bookshelf that I didn't know I owned. Adventure, here I come.
3) Explore your neighborhood. It is not necessary to travel to a foreign country to have an adventure. All towns have somewhere fun to explore. I live in a town of 200 and there is a museum that changes out its exhibits often. I always learn something new when I visit.
4) Explore the internet. The internet is more than cat videos and bad jokes. There is a world to explore right from your computer. From the National Parks to the Disney parks there are lots of areas to explore.
5) Plan a big trip. This is my favorite thing to do. Right now I am planning a trip to India. I have been planning this trip for years, but I find the planning is as fun as the going. Every new thing I learn adds to the adventure.
From small adventures to large make a point to go explore today. And tomorrow. Make every day an adventure and you'll always be eager to get up in the morning. Happiness squared.
Goofy Tip: The new Fantasyland at the Magic Kingdom has a new castle. You can now explore the Beast's castle and enjoy a great meal at the Be Our Guest Restaurant. I can't wait to eat there because I want to try The Grey Stuff (it's delicious). They actually made a dessert based on that line from the song "Be Our Guest." It is a chocolate mousse which really is delicious.



For great tips that you can take with you on your tablet or smart phone download the Kindle app and buy a copy of Goofy Tips for a Happy Disney Vacation
. For 99 cents you'll have hundreds of great ideas for visiting the Disney Parks only an app away.