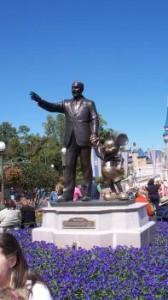 I love reading and collecting quotes so I thought I would share some great Walt Disney quotes with you today. They are easy enough to find on the Internet, but in my searching I found a cool Disney website, JustDisney.com. This site lists lots of Walt Disney quotes and has great articles about the Disney parks and other parts of the Disney Universe.
Have a great weekend and be sure to do something goofy.
5 Quotes by Walt Disney:
"When you're curious, you find lots of interesting things to do. And one thing it takes to accomplish something is courage."
"The way to get started is to quit talking and begin doing."
"Laughter is America's most important export."
"There is more treasure in books than in all the pirates' loot on Treasure Island and at the bottom of the Spanish Main … and best of all, you can enjoy these riches every day of your life."
"It's kind of fun to do the impossible."
Goofy Book Recommendation: If you're like me and you love quotes and Disney, then I have a great book for you to explore. The Quotable Walt Disney
 by Disney Editions is filled with insightful quotes by Walt Disney on many topics, not just the parks. In the past I have suggested having a word of the day during your Disney vacation, but why not have a quote of the day, too. It would be like seeing the parks through Walt Disney's words.
For more great Disney books check out the Recommended Disney Books tab on my website. All the books purchased there help support A Goofy Idea.