I wanted to do a post about the hidden gems of the World Showcase in EPCOT, but I could not decide which gem to write about so I am going to do a series of posts called World Showcase Wonders. I'll highlight one gem in each pavilion. These are features that people might not notice as they hurry from store to store and restaurant to restaurant. At the end of this series I'll have a downloadable brochure that you can print out and take to the parks so you can see of these gems for  yourself. Today we are in Canada.
I love the Canada Pavilion. The CircleVision 360 movie O Canada! is one of the best and the stores are filled with whimsical moose and black bear items. But my favorite part is the Canadian Rockies.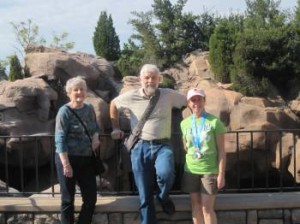 Why are these miniature Rockies a gem? One is that they are located at the back of the pavilion so not everyone knows they are there. Two is that there is nothing else like them in the parks. The replica Butchart Garden is lovely and not to be missed, but there are several gardens around the World Showcase. The Rockies are impressive and unique with their massive rocks and roaring 30 foot waterfall. It is a refreshing walk on a hot day and a great photo opportunity anytime. You certainly won't think you're in Florida. So explore the Rockies. They are a gem of the Canada Pavilion.
Goofy Tip: When you arrive at your first pavilion buy a passport book. This book has a page for each pavilion, stickers you can put in it, and a place for cast members to write a note in their own language. At each Kidcot Fun Stop you can get your book stamped by a cast member. This is not just for kids. I bought one of these books and the cast members loved signing it for me. (And even though it is a disguise, I do look like an adult on the outside.)