Most of my posts are generic enough to be useful at any Disney park. I am running the Disneyland Half Marathon on September 2, 2012 and will be spending several days at the Disneyland Resort. Between now and them I am going to dedicate each Friday's post to uniquely Disneyland information. Today I am discussing on-property and off-property hotel options.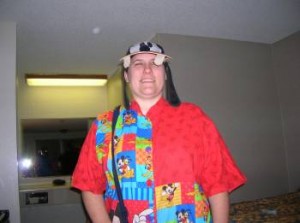 There are many types of places you can stay while visiting the Disneyland Resort. Some options are hotels, campgrounds, time shares, family, and friends. Today I want to talk about hotels, and more precisely, hotels in the Anaheim area.
Disneyland Resort Hotels
If you are staying on-property then your planning is pretty simple. Once you pick your hotel you don't have to drive anywhere or take a bus. You can walk to any of the parks. Plus staying on-property gets you  into the parks an hour early on Mondays, Wednesdays, and Fridays this summer. This is the first time I will be staying on- property at the Disneyland Resort and I can't wait to see the newly remodeled Disneyland Hotel. There three on-property hotels: The Disneyland Hotel, Disney's Grand Californian Hotel & Spa, and Disney's Paradise Pier Hotel. I'll go into more detail on these hotels in a later post.
Non-Maingate Hotels
If you are staying off-property you have two options: maingate hotels, and non-maingate hotels. When I was planning my last trip to Disneyland with AAA my travel agent said that non-maingate hotels were more than 1/2 mile away from Disneyland. That didn't sound like much to me (I walk miles everyday) so I reserved a non-maingate hotel. Boy, a 1/2 mile is a lot different when it's 2 a.m. and you've been in the parks all day. I decided that trip that I would stick with maingate hotels.
The truth is that with proper planning you can have a good trip and stay at a non-maingate hotel. There are shuttles that run from many of the hotels to the park and back. Your hotel would know their schedule. Or you can drive to the parks which might be a good idea if your hotel is several miles away, although you will have to pay for parking. Most non-maingate hotels are less expensive than maingate hotels so if you are on budget it might be the answer for you.
Maingate Hotels
Maingate hotels are exactly what they say they are. These hotels are off-property, but they are very close to the main gate of Disneyland. Some of them are closer to Disneyland than the Disneyland Resort hotels. You will pay more for these hotels, but if you want free breakfasts or take a break in the afternoon to enjoy the pool then these hotels could be perfect for you.
I hope this helped you out. There are many places to stay near the Disneyland resort. If you decide you want to stay in a hotel then your choices are down to on-property, non-maingate off-property hotels, and maingate off-property hotels. Simple. Just remember that the point is to have a happy time at the Happiest Place on Earth. Pick your accommodations to fit that plan. Happiness squared.
Goofy Tip: Even if you don't stay on-property take some time to see the Disneyland Resort hotels. They have great restaurants and fun decor. After seeing one you might decide to stay there on your next trip to Disneyland and Disney's California Adventure.