Limited Time Magic: This year is the Year of the Snake and Disney California Adventure will be celebrating the Lunar New Year now through February 13. There will be lots of unique performances and great food available. Click here for more information.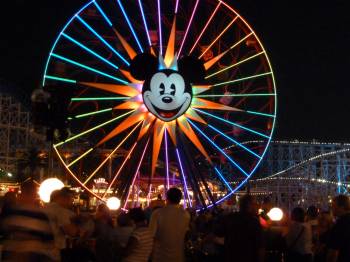 When it comes to visiting the Disney parks there are two types of people (I am excluding locals who visit dozens of times a year). There are those who plan months in advance and those who decide to visit and just go. I admit I am in the first camp; not only do I plan months in advance but I love researching every part of the trip. However, I'd love for someone to invite me to visit a Disney park next week. Even though I would have no time to plan I would gladly go.
If you have an impromptu trip to a Disney park coming up in the next few days I still suggest you do a little planning. If you have a few days I would buy a guide book (you can find a great selection on my home page) and explore a couple of the websites listed below. If you only have a few hours I would skip the book and find the answer to three questions.
3 things to find out before you visit a Disney park:
1) Park hours/parade and fireworks times. If you are only visiting a park for one day I suggest showing up an hour before the park opens and planning to stay until the end. In order to do this you need to know the park hours. It is also helpful to know what parades and fireworks are happening. Schedules change all the time so for the most up-to-date information go to the official website for Disneyland or Walt Disney World. Just click on the day you are going and the park you are visiting and you'll learn a lot.
2) How crowded the park is going to be. If you are going in the summer the parks will probably be more crowded than if you go in the winter, but there are exceptions. If you know what expect crowd-wise than you'll be a lot less stressed. touringplans.com provides crowd calendars and other great tips  They have a daily blog you can sign up for so you'll always be up-to-date whenever you visit.
3) What attractions are closed. This might be the most important piece of information you'll need. Nothing is more annoying than walking across the park only to find out that the ride you really wanted to go on is closed. At the websites listed on #1 (where you can learn the hours that the parks are open) you can also learn what attractions are closed. Just scroll to the bottom of the date that you clicked on.
With this information you'll go to the parks feeling prepared and stress-free. I hope you have a great trip. I'll be home planning out my next visit to the parks. Maybe I should drop my spreadsheet and just go. Happiness squared.
Goofy Tip: If you didn't do any of the above suggestions and you just show up at the parks you can still learn something before you go in. Most of the parks have signs near the front that tell you what rides are closed and when events are happening. You can also visit Guest Relations for the most up-do-date information (and a cool button).
For great tips that you can take with you on your tablet or smart phone download the Kindle app and buy a copy of Goofy Tips for a Happy Disney Vacation
. For 99 cents you'll have hundreds of great ideas for visiting the Disney Parks only an app away.