Limited Time Magic Update: On Monday through Thursday this January the Golden Horseshoe at Disneyland is going to have special tribute show. If you never saw the Golden Horseshoe Review it was a musical variety show complete with can-can girls and melodramas. Along with the show "A Salute to the Golden Horseshoe Review" there is going to be a special menu available. If you want to see this Limited Time Magic event you have to go to the Golden Horseshoe the day you visit Disneyland and make a resevation. I suggest you head over to Frontierland as soon as the park opens. These tickets are going to go fast. Learn more at the Disney Parks Blog.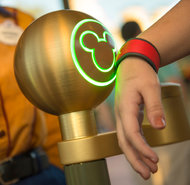 Okay, before we go any farther I am going to admit my bias. I like new technology. I figure that it is a little late to worry about big brother watching us. Wherever I go, from my grocery store to my doctor they are collecting information about me to make my visits better. So far, this has only benefited me and I don't feel like I'm slipping into 1984 or Farenheit 451 (but I do read these books again and again so I know what to watch for).
When I heard about Disney's newest program being released in 2013 called MyMagic+ I was excited. And then I started hearing and reading about it. It seemed like everyone wanted to spin it in a negative way. From Marketplace on NPR to Coast to Coast A.M. (I don't even want to tell you what they said) people were concerned about Disney collecting our personal information and using it for nefarious purposes. I'm pretty certain that the only reason Disney wants to collect my information is so they can improve the parks and entice me to visit again. Well, with MyMagic+ I am hooked.
Seven reasons I think MyMagic+ is going to be a great program:
1) You don't have to worry about losing your cards. In the past, I have been ultra-careful with my hotel key card and my park ticket. I would put them in my bag  and check them often so I did not loose them. With the MyMagic+ MagicBand we will be wearing our cards on our wrist, a stress-free option.
2) You can reserve special events at home. From Fastpasses to dinner reservations, you can now set up these timesaving events from home. I love to plan as much as possible before I leave so this is an awesome addition.
3) It is both optional and flexible. Right now the program is only available to Guests who are staying on property. If I didn't already stay on property I would now (I bet Disney planned it that way). If you are nervous about providing too much personal information you can enter as much or as little as you want. Perhaps you will provide all your information, but limit the information on your children's bands.
4) There is a website and an app to help you manage your MyMagic+ program. If you make plans at home you can change them in the park with the app. Walt Disney World now has Wifi in the parks so you can use your smart phone or an iPod Touch like I have.  On the busy days at the park Wifi might be a better idea when everyone is clogging up the cell service.
5) You can have a credit card put on your MagicBand. This is similar to the program that allows you to put your credit card on your hotel key card. It is very convenient and means you have less items to carry. If your purchase is more than $50 you have to enter a PIN. I personally do not attach my credit card to anything but that is because I use mostly cash in the parks (crazy, I know).
6) Your park experience will be enhanced. I love the new interactive queues at various attractions. Now those queues will not only be interactive but personalized. Different characters along the way will talk to you and relate any information you have provided. I can't wait to try that out.
7) VIP seating for parades and fireworks will be available. This is a wonderful idea and only one more way that the MyMagic+ program can enhance your trip.
Okay, enough gushing from me. I know that there are going to be problems and delays when this program is released. I hope that they keep it around long enough to fix the bugs and allow the Guests to get used to it. There are lots of questions that have not been addressed yet, but I am ready to grab my MagicBand and check out all that the MyMagic+ program has to offer.
Goofy Website: If you would like to learn more about the MyMagic+ program check out these articles for more information.