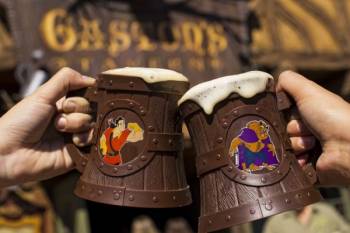 December 6, 2012 was a red-letter day for Walt Disney World. Three parks had grand-opening celebrations for new attractions, and while some were larger than others, they all showed how the  Imagineers never stop trying to improve your Disney experience.
Test Track Presented by Chevrolet in Epcot reopened after a major remodeling. This ride, which used to explain how auto manufacturers kept passengers safe in the 20th century, now shows Guests how they are improving the cars of the future. With a new queue, new cars, new storyline, and new post-show this attraction has changed everything but the name (and that changed a little, too.) I can't wait to check it out.
The Legend of Jack Sparrow opened in Disney's Hollywood Studios. I think the best part of this walk-through attraction is the amount time you get to interact with Jack Sparrow and other pirates. As you learn if you've got what it takes to become a pirate you'll think you had stepped into the movie, something I have always wanted to do. Now I need to decide, do I visit Epcot first, or Disney's Hollywood Studios?
And the answer is neither. The next time I visit Walt Disney World (let it be soon) I'll be heading straight for the Magic Kingdom because the New Fantasyland is officially open. I'll be making dinner reservations at the Be Our Guest Restaurant and I'll eagerly try out the non-queue at the new Dumbo ride (it is now inside a Big Top and has two Dumbo attractions running at the same time.) I'll enjoy LeFou's Brew, a new signature drink, and get my souvenir Gaston mug. And I'll be walking around and admiring the new world that the Imagineers have created.
So much is going on at Walt Disney World that I can't wait to go back. Anyone want to come with me? It should take about 10 days to see everything that is new and revisit all my old favorites. I think I'll start planning my trip today. Happiness squared.
Goofy Tip: The new Fantasyland expansion is the largest improvement made to any Disney park ever. Two new castles were added along with new attractions and restaurants. This is going to be a wildly popular area for a long time. To get the most out of your experience do some research before you arrive. By knowing what is available and how the various lines (or non-lines) work you will have a magical, not a confusing, time.