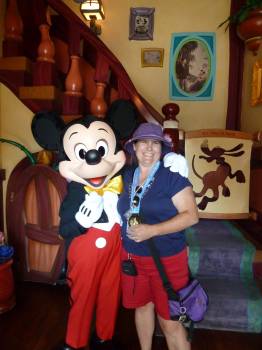 Imagine you are in line to get your picture taken with your favorite Disney Princess (mine would be Sleeping Beauty). As you approach her she holds out her hand to you and calls you by your name. Wouldn't that be magical? Your favorite princess knows you personally. If only this could happen.
Well, it can. If you sign up for the new MyMagic+ program you receive a wrist band in the mail that you wear in the parks. It is your room key, your park ticket, your fastpass access, and so much more. Because it has your personal information  on it, whenever you walk by a sensor you get service specialized to you. Instead of Walt Disney World I could call it Jennifer World, or you could call it by your name, too.
MyMagic+ is a brand new program so there will be some glitches and some complaints. That is typical. My hope is that they keep it around long enough to fix the glitches and for Guests to get used to a new way of doing things. In the future this may not be magic, it may just be normal. I feel that anything that makes my trip more personalized makes my trip better. I can't wait to plan a trip and get my own bracelet. Sleeping Beauty, here I come. Happiness squared.
Goofy Question: On Friday I will be explaining more about the MyMagic+ program. Have you heard of this program? What do you think of it? Do you have questions? Leave a comment by clicking on one of the icons below and I'll answer any questions in the next post.