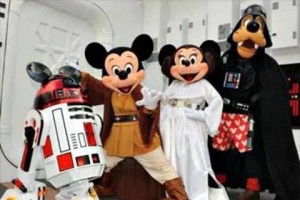 Star Wars and Disney goes together like chicken and waffles. They are each one of a kind, but I rarely think of one without thinking of the other. For Star Wars and Disney this is because Star Tours has been one of my favorite rides since I was a teenager. So I am never surprised to hear about special Star Wars events happening at the Disney parks. However, this newest one has me as excited as a trip to the Endor moon.
This Saturday is May 4 and Disney's Hollywood Studios will be hosting "May the Fourth Be With You", a special Star Wars themed event. On this day only adults can fulfill their dream and join their children in the Jedi Training Academy. I bet a lot of dads will be dragging their children through the park yelling, "Go faster, I want to sign up before it fills up!" I love watching the Jedi Training Academy shows and I'm sure it will be even funnier with the parents trying to battle Darth Vader, the nemesis of their childhood.
If you like to ride Star Tours (me! me!) then you don't want to miss it during May the Fourth Be With You. On Saturday Star Wars characters will be riding along with you. You may be sitting next to Chewbacca, or Boba Fett. Better fasten your seat belts.
If you miss the characters at Star Tours you can still catch them throughout the park. They will be around for meet and greets which I think is amazing. I would love to have my picture taken with any of the Star Wars characters.
For a full list of everything happening on Saturday check out the blog post at touringplans.com.
This Limited Time Magic Event will be galactic fun, with everything from cool merchandise to evening Star Wars-themed fireworks. As always I wish I lived closer to the parks. Here is my advice for those who are going. Expect crowds. Arrive early. Don't plan to ride every ride. Instead, slow down and enjoy the special events and may the fourth be with you. Happiness Squared.
Goofy Tip: Disneyland is also celebrating "May the Fourth Be With You," but on a much smaller scale. I have noticed that many of this year's special events are happening on both coasts. So if you hear about an event check with your nearest park or touringplans.com to see if anything is happening at near you.