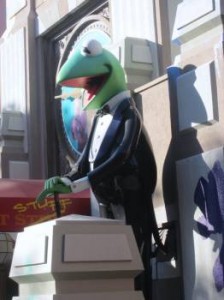 Jim Henson, the creator of the Muppets, was born today in 1936. I grew up with Sesame Street and The Muppet Show and never miss seeing Muppet*Vision 3-D when I visit the Disney parks. I love learning about Jim Henson because he was such a creative person. In fact, he was very similar to Walt Disney in that he created characters that the world knows and loves. It is amazing that they continue to entertain us generation after generation. These two men were both creative geniuses whose light was extinguished way too soon.
One of my favorite books about Jim Henson is Jim Henson's Doodle Dreams: Inspiration for Living Life Outside the Lines by Jim Lewis. This small book is stuffed with great quotes and doodles from Jim Henson. When I open this book to any page I find my creative juices start flowing. This would be a wonderful gift for anyone who needs a little inspiration (and don't we all) or for your own bedside table. Happiness squared.
Goofy Quotes: There are many used copies of this book on Amazon. If you would like to support A Goofy Idea you can order it here
for as little as $1.75. Below are a few of the quotes found in this book. I hope you enjoy them as much as I do. Happy Birthday, Jim Henson, and thanks for the fun.
5 fabulous quotes from Jim Henson:
"Try to instigate silliness."
"Do things. Do them well. Then, right away, do something totally different and do it even better."
"Be curious."
"It seems that if you want to go anywhere really interesting you usually have to travel through chaos to get there."
"We're all like eggs – fragile and full of possibilities. But unless we come out of our shells, we just stay eggs."