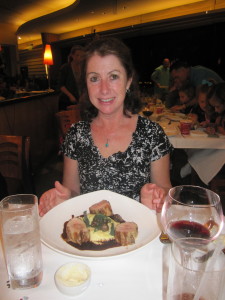 It is safe to say that the Disney parks have the best fireworks shows in the world. They are the most state-of-the-art, the most creative, and the most emotional shows I've ever seen. I never miss the fireworks shows at the Magic Kingdom. For me they top off an already incredible day.
It never occurred to me that planning the fireworks shows would be a full time job involving multiple people. That sounds like a great job. How rewarding would it be to create something that millions of people enjoy every year? Who does these jobs? Disney Parks Blog interviewed one of these people and he gave us a glimpse into how he brings the best fireworks shows to the park. Click here to see the page with the video. It is not long but it gave me new appreciation for the shows. The next time I see a Disney nighttime spectacular I will think of all the people who brought the show to life. Happiness squared.
Goofy Tip: Would you like to see the Magic Kingdom fireworks show from high above the park and enjoy an amazing meal in the same evening? Than make reservations for the newly re-opened California Grill at the top of the Contemporary Resort. Tell them that you would like to see the fireworks so that your reservation is for the right time. When the show starts you can watch it from a balcony at the top of the hotel. It is an amazing view. The music from the show is piped in so you get the whole experience. The fireworks were breathtaking and the meal was one of the best I have ever had in my entire life. Though it was extremely expensive it was worth every penny. It was a night I will never forget.