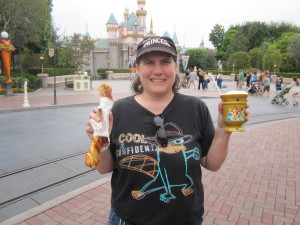 When I say the battle of the drinks you probably think Coke vs. Pepsi (I loved those commercials). As much as I love Coke (Yay, Coke!!!) today I want to talk about another drink battle. This battle started when Universal Studios Orlando opened the Wizarding World of Harry Potter at Islands of Adventure. Since A Goofy Idea is a Disney blog I never write about my love affair with all things Harry Potter, but my life would have been incomplete if I hadn't visited Hogsmeade at Universal Studios Orlando. Thanks to my great friends I was able to visit in January of 2012. The area was so accurate I felt I had stepped into the movies. It was also unbelievably crowded, but too cool for words. I bought my wand which doesn't work because I am a muggle, but I felt my Harry Potter dreams came true.
While I was there I tried Butterbeer, the signature drink from the stories. We waited in line for ten minutes or so and got a cup of amber frozen sweetness. It was very good, but I was glad I was sharing it with someone else. It was so sweet and so buttery that a little bit went a long way. Now that I have tasted Butterbeer I have no desire to try it again. But let it be said I thought Universal did a great job of bringing the world of Harry Potter to life, including Butterbeer.
While all this Harry Potter stuff in interesting this is a Disney blog, so why am I going on and on about Universal? Well, Butterbeer was so popular at Universal that Disney wanted their own signature drink. This was going to be a little difficult because Disney has lots of great drinks (you have to try Ramone's Pear of Dice Soda) and they do not have a movie that emphasizes one drink like Harry Potter does with Butterbeer.
A new beverage was revealed when New Fantasyland opened at the Magic Kingdom. Lefou's Brew is a fun apple drink inspired by Beauty and the Beast that is found at Gaston's Tavern. Guests at Disneyland were not left out and a different signature drink was created for Fantasy Faire, the newest area of Fantasyland. It is called Boysen Apple Freeze and is found at Maurice's Treats. Boysen rhymes with poison so it is obviously a Snow White reference. I couldn't wait to try this new drink and see how it compared to Butterbeer.
So…which did I like better, Butterbeer, or Boysen Apple Freeze? It may seem like I have a bias, but anyone who know me knows that I love Harry Potter about as much as I love Disney (if Disney had made the Harry Potter movies I would have cried with joy). So with no bias, just my taste buds as my judge, I declare…Boysen Apple Freeze the winner. This drink was much lighter than Butterbeer and the combination of boysenberry, raspberry, and apple made the drink both tart and sweet. This is a drink that I will buy every time I visit Disneyland. When I go back to the Wizarding World of Harry Potter (once they fix their crowd problems) I will try other drinks but not Butterbeer.
Congratulations to Disney for winning the battle of the drinks. They won in another way, too. You can get a souvenir cup with either drink, but Disney's cups are way cooler. You get to choose between a princess goblet or a Beast beer stein. I chose the goblet and love using it at home. Happiness squared.
Goofy Tip: If you are looking for breakfast at Disneyland bypass the crowds at Main Street U.S.A. and head over to Fantasy Faire. Boysen Apple Freeze makes a great breakfast drink.  At the same cart you can buy a twist. I tried the cheesy garlic twist and it was excellent. It is a good size (you can see me holding one above), enough for a light meal and plenty big enough to share with a friend for a snack. They also had strawberry and chocolate. I can't wait to try them all.