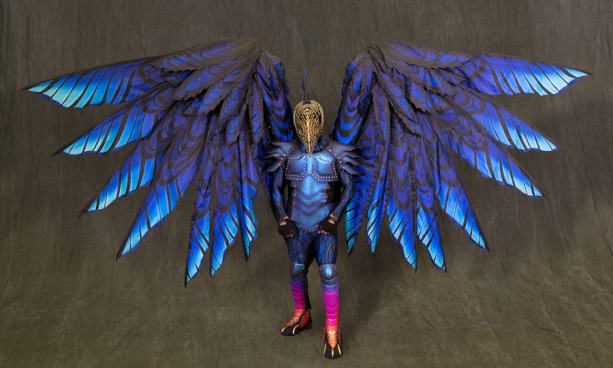 A few posts back I told you about a new parade coming to the Magic Kingdom this March. The Festival of Fantasy parade celebrates all the great stories found in Fantasyland. As you could see from the steampunk dragon float representing Sleeping Beauty that I talked about before this parade is going to be something new and spectacular.
The parade costumes have been revealed and they are as remarkable as the floats. There is a great article at The Disney Blog that describes the backstory of all the costumes. The one that caught my eye is also attached to the Sleeping Beauty float. The winged costume is a sight to see but the mask is the best part. It was made with my favorite new technology, a 3D printer.
I have heard a lot about 3D printers in the past few years. I've never used one myself but I'd love to try one out. Someday everyone will have one in their house, the way we all have inkjet printers now. Without thinking too hard I can think of five or six items I would like to print right now.
3D printers are being used more and more in science and industry so I was thrilled to learn that Disney was using them, too. A lot of the technology Disney embraces becomes mainstream so perhaps their use to these machines will make them more common in a shorter amount of time.
The Festival of Fantasy parade combines fantasy and technology, which is exactly what Disney does with everything they create, from their films to their theme park attractions. Usually we don't notice the technology behind the fantasy. I think it is cool that they are blending them both in this parade. Happiness squared.
Goofy Tip: If there is one piece of technology that has always been connected to Disney it is photography. For years Kodak was the sponsor of all the picture spots and film stores in the parks. That has recently changed to Nikon. It will take me a little while to get used to the new signs, but as I always say, the only thing that doesn't change at the parks is change. The Disney Blog has a great post filled with photography advice from Nikon. Check out these tips so your pictures of the Festival of Fantasy parade are fantastic.