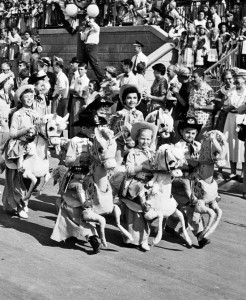 In honor of everyone's favorite Mouseketeer, Annette Funicello, who passed away yesterday, April 8, 2013, I am adding an extra post. I grew up watching the original Mickey Mouse Club on the Disney Channel, and I saw all the beach blanket movies with my Dad, who is one of her biggest fans. My favorite movie of hers is Babes In Toyland. I have many of her songs, including The Parent Trap and Monkey's Uncle, on my iPod. She was a symbol of the magic of Disney.
Many blogs are remembering her, but I liked the photo montage found at the Disney Parks Blog. Click here to watch Annette grow up. She will always be treasured.
Goofy Trivia: She is honored in many different ways, but the craziest is at Muppet*Vision 3D at Disney's Hollywood Studios. As you are waiting to go into the theater look over your head. There you will see "a net full of jello." Wakka Wakka.
For great tips that you can take with you on your tablet or smart phone download the Kindle app and buy a copy of Goofy Tips for a Happy Disney Vacation
. For 99 cents you'll have hundreds of great ideas for visiting the Disney Parks only an app away.