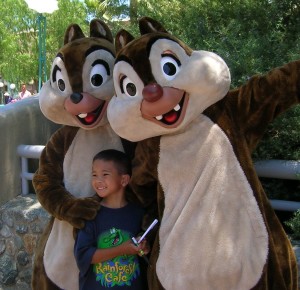 Several years ago (like six or seven) Disney had a promotion called "Year of a Million Dreams." It was so popular that it lasted more than a year. During this promotion Cast Members could hand out surprises, both large and small, to unsuspecting Guests. I was at Disneyland with my best friend, Rhonda, and her then six-year-old son, Josef. Out of the blue Josef was given a collectible pin. A couple days later I was handed a lanyard with several pins on it. The spontaneous gifts could be anything from fastpasses to an opportunity to be in a parade. This promotion made Cast Members happy, it made Guests happy and it is my most favorite promotion Disney has ever done.
I was reading Disney Insider, an e-newsletter I receive every week, and learned about a Cast Member and his family who does random acts of Disney when they visit the parks. They smile at people, hold doors open, give fastpasses away, and even hand out small items, like pins, to unsuspecting Guests. What I liked most about this story is that this Cast Member is doing all this when he is not working. This isn't a job requirement; it is just kindness.
I think after the tragedies that have happened in the past weeks, both intentional and accidental, we could all use a little kindness. I love hearing stories of people helping each other when bad things happen, but I think we should help each other when nothing bad is happening, too. So this weekend let's all try to do three random acts of Disney. Of course more is always welcome. Disneyland is the happiest place on Earth and I think it would be great to spread the happiness around outside the parks, too. Happiness squared.
Goofy Tip: One fun way to surprise a friend is to give them an "unbirthday" present. The Mad Hatter and the March Hare from Alice in Wonderland celebrate Alice's unbirthday. They explain that everyone has 364 unbirthdays, so any day can be your unbirthday (unless it is actually your birthday.) A fun card, a cupcake, or a flower is a great way to spread happiness and good wishes for someone's unbirthday.