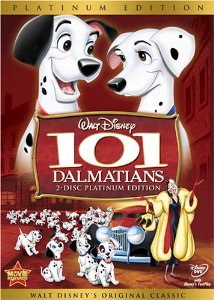 Anyone who knows me knows that I don't just read on the weekend. I read 24/7. I probably read too much, if that is possible. My house is not spotless and I am not as thin as I would like to be because I'm probably reading. But this weekend I plan to read a new book.
"There is more treasure in Books than all the pirates loot on Treasure Island." Walt Disney
Many of the classic Disney movies we enjoy were adapted from books. I love to read a book after I have seen the movie. Most of the time the book is better, but even when both the book and the movie are good they are rarely the same. Why not pick up a book you've never read, that is also a movie? You get to enjoy a great story twice.
5 great Disney movies that are also great books:
1) 101 Dalmatians/101 Dalmatians
 by Dodie Smith. There are more than 101 Dalmations in the book, but I love the book and all the movies equally.
2) Treasure Island/Treasure Island
 by Robert Louis Stevenson. The movie is fun, but the book really sucks you in.
3) Holes/Holes
 by Louis Sachar. I liked the movie better, but I know a lot of kids who loved the book.
4) Johnny Tremain/Johnny Tremain
 by Esther Forbes
. This is one of my favorite books and the movie was good, too.
5) Winnie the Pooh
/Winnie the Pooh
 by A. A. Milne. Everyone knows the bear, but when did you last read the books. They are wonderful when read out loud.
A lot of these books are considered kids books, but they are so good that adults should read them, too. Plus, kids books tend to be shorter than adult books so maybe you'll have time to read two books this weekend. I know I will. The dishes can wait. Happiness squared.
Goofy Tip: If you belong to a book club why not have a book and movie meeting. There are lots of books out there that have been made into movies, both by Disney and others. You can discuss the differences between the book and the movie and which you liked better.