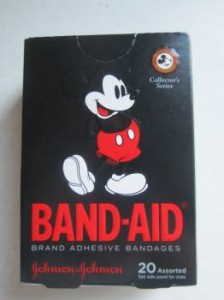 I just have to say it. I think these are the coolest Band-Aids I have ever seen. Now you may think that I am crazy for writing about Band-Aids, but I would argue that Mickey Mouse Band-Aids are a goofy idea, and therefore are the perfect topic for this blog.
It may be hard to see on the box but these Band-Aids are part of a Collector's Series. I didn't know anyone collected Band-Aids. I think that would be a cool collection. It's original, it doesn't cost a lot of money, and like stamp collecting all you need is an album to keep it in. Hmmm. I like to collect things. I wonder…
Inside the box there are three different designs. One is just Mickey's head on a grey background and the other two are scenes from vintage Mickey Mouse cartoons. Maybe that is why they are collectible.
I think I will pack some in my traveling kit so I'll be ready if I need a Band-Aid while on a Disney vacation. I am hoping I get a scrape just so I can wear one right now, although I guess there is nothing stopping me from putting one on without suffering pain first. Or is that cheating?
Okay, I bet you didn't think I could talk this much about a Band-Aid, but I could go on forever. I won't though. I'll just say that if you know someone who is a Disney fan, surprising them with a box of Mickey Mouse Band-Aids would make their day. I know it made mine. Happiness squared.
Goofy Joke: (In case you haven't laughed enough)
Q: Why did Woody give Bullseye some cough syrup?
A:  Because he was horse.
Do you use character themed Band-Aids? What is your favorite?
I am trying a new comment box. Please feel free to test it out. If you are unable to use it let me know a agoofyidea@gmail.com Thanks.