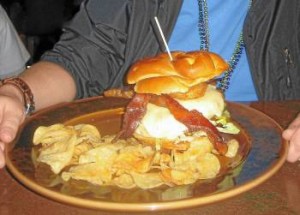 I am a burger fan. Give me a plate with a good-sized cheeseburger, a side of fries, and a great toppings bar and I am in lunch heaven. On my last trip to Walt Disney World we had a lot of dinner reservations that were around 4 p.m. Instead of having a sit-down lunch we were just grabbing a snack. On the last day we had no reservations so I declared that I wanted a burger. This was the only burger I ate that trip and it was fantastic. I started thinking about all the great restaurants at the Disney parks where a Guest can get a good burger when the urge arises. I'm ready for one right now.
Great counter-service restaurants for burgers and fries:
1) Disneyland – Hungry Bear Restaurant. I have been eating at this restaurant since I was a child. Not only does it have great burgers but during the non-busy times you can get a table by the railing, watch the boats go by on the Rivers of America, and feed French fries to the ducks. It is a great place to relax with a rustic wilderness feel.
2) Disney's California Adventure  – Taste Pilot's Grill. Disney is known for designing creative spaces, but this restaurant takes the cake. The whole time I was enjoying my burger overflowing with toppings I felt like I should be wearing a bomber jacket. The hanger is decorated with airplane memorabilia and gets you in the mood to ride Soarin' after enjoying your meal.
3) Magic Kingdom  – Pecos Bill Tall Tale Inn & Cafe. This restaurant may have the best burger topping bar at any of these restaurants. My dirty secret is that I eat burgers for the toppings. The more toppings I can put on my burger the happier I am, especially dill pickles. I always look forward to eating at this restaurant, but I try to ride Big Thunder Mountain and Splash Mountain before I eat, not after.
4) Epcot – Liberty Inn. I admit I don't often eat burgers in the World Showcase. The ethnic choices are so appealing in this area. But the American Adventure Pavilion has great architecture and happens to be half way around the world. So if your group is hungry and no one can agree which nationality to eat at, head over to the Liberty Inn and enjoy food as American as a burger and fries.
5) Disney's Hollywood Studios  – Backlot Express. This quick-service restaurant serves a great burger which by itself is a great reason to eat here, but the last time I ate there I had so much fun that I plan to eat there more often. While we enjoyed our lunch the Jedi Academy was happening nearby. Watching those kids battling Darth Vader was the best dining entertainment I had seen in a long time. I'll be sure to be back, for both the burgers and the show.
6) Disney's Animal Kingdom – Restaurantosaurus. If you have children this is the restaurant for them. It is in Dinoland U.S.A. and the whole area is filled with dinosaur bones. During lunch, as you enjoy your tasty burgers, you can plan which dino-themed ride you are going to ride first. I always enjoy this restaurant because of the family-friendly atmosphere.
7) Downtown Disney – T-Rex. This restaurant wins my award for best decor, best food, and best name for a burger. The decor is prehistoric, there is something on the menu for everyone's tastes, and the burger that I drool over is called the Gigantosaurus Burger. For people wanting a smaller burger there is also the Bronto-burger. I love this restaurant. It is the ideal restaurant for any family with dinosaur fans or any family who loves good food. (This restaurant is the exception to the list, because it is not a counter-service restaurant, and I do recommend reservations.)
There you go. During your next Disney vacation you can have an all-American lunch with as many pickles as you want. Happiness squared.
Goofy Tip: These restaurants are all counter-service (except T-Rex) so reservations are not an option. I'm not kidding when I say that they get really busy at normal dining hours. To avoid huge lines and grumpy hungry family members plan to eat early or late. I like to eat early and then visit attractions while everyone else is fighting the lines.