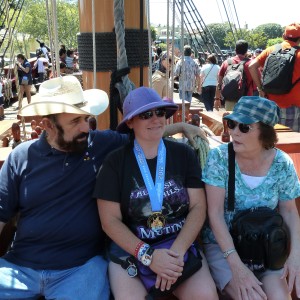 If you ask most people what the most iconic item you can buy at a Disney park is they will probably tell you "mouse ears." They might say, "those weird beanies with mouse ears attached to them" but they mean "mouse ears." 2.5 million mouse ears are sold every year. Wow!
If you are not visiting a Disney park today you may not want to show off your mouse ears. However, it is National Hat Day so you should proudly wear a hat. For some of us (me) that might be difficult because I have so many hats to choose from. Since it is National Hat Day I might wear my purple pith helmet that my dad bought me at Downtown Disney at the Disneyland Resort. It is one of my all-time favorite hats.
One of the cool things about Disney souvenirs is that you can go wild or you can go mild. It is possible to buy a hat at a Disney park and wear it outside of the parks. So do not fear. You can wear your ears proudly in the parks and wear your Donald Duck painters cap just as proudly back home. Happy National Hat Day!!! Happiness squared.
Goofy Tip: If you want the coolest mouse ears ever made then buy a pair of Glow With the Show Ears. They light up at most of the evening shows including World of Color and Fantasmic. They work in any park and make staying in the parks all night long so much more fun.