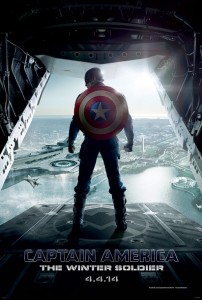 First we had Iron Man. Then Thor joined him. Now Captain America will be making an appearance at Innoventions at Disneyland this spring. The new Captain America movie "The Winter Soldier" comes out April 4, 2014. In honor of this movie you will be able to meet Captain America and touch his shield (I'd be careful doing that.) I don't know how this will be staged yet, but if it is anything like Iron Man Tech, where you can immerse yourself in the world of Tony Stark, I'm sure it will be awesome.
I'll be at Disneyland for the Disneyland Half Marathon at the end of August. High on my list will be meeting both Thor and Captain America since I am a bit of an Avengers fan. Would anyone like to join me?  We are all superheroes in our own way. Happiness squared.
Goofy Tip: If you want to meet any of the Avengers at Innoventions but don't want to stand in line for an hour then I would arrive early. These areas do not open at the same time that the park does but you can go into Innoventions and queue up. I will be making it my first stop of the day.