Yesterday, November 18, was Mickey Mouse's birthday. He make is screen debut in 1928 and he still entertains us today. In honor of his birthday I'd like to provide some trivia about the Partners Statue that was first displayed at Disneyland on November 18, 1993.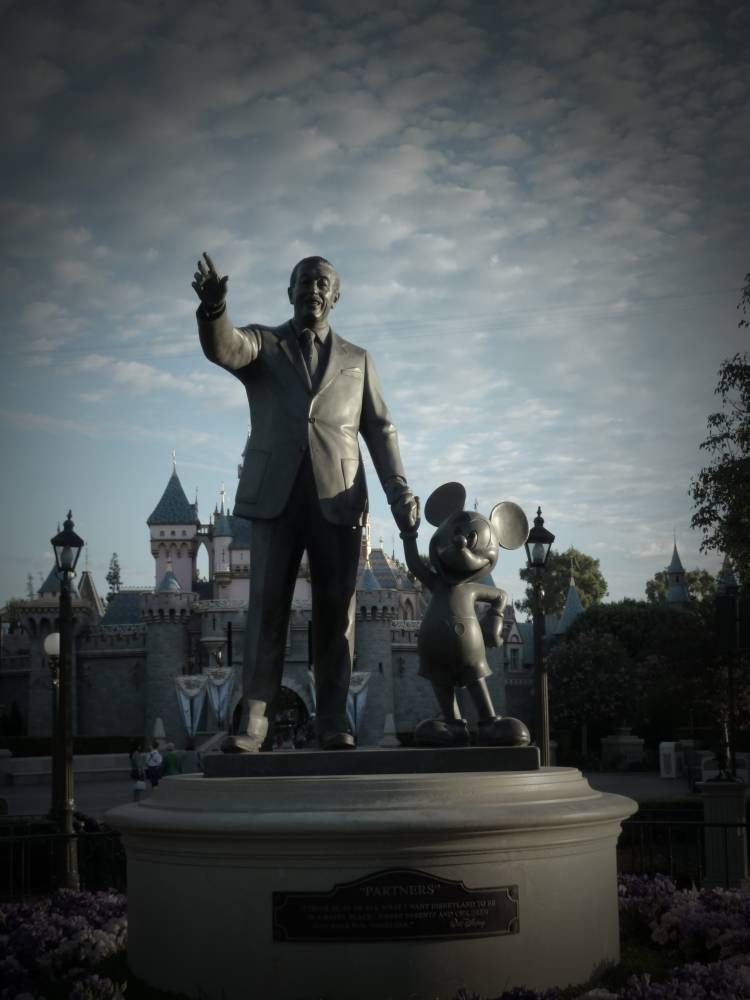 5 fun facts about the Partners statue:
1) The statue was sculpted by Disney Legend Blaine Gibson. Mr. Gibson started working at the Walt Disney Studios in 1939 and retired in 1989. To design the statue many people who had worked for decades with Walt Disney were consulted.
2) The Partners statue is found at the Hub in front of Sleeping Beauty Castle. Walt is holding Mickey's hand and showing him everything that "started with a mouse." They face Main Street U.S.A.  to welcome Guests to the various lands.
3) The statue is made of bronze. Unlike the new Walt Disney and Mickey Mouse statue that is found at Disney California Adventure the Partners statue is larger than life.
4) There is a Partners statue at various Disney Magic Kingdoms around the world. The statues all stand in front of the individual park's castle at the end of Main Street. I think it would be fun to photograph each one and put them in a collage frame. I'll add that to my bucket list.
5) There is a plaque on the front of the statue. It reads, "I think most of all what I want Disneyland to be is a happy place…Where parents and children can have fun, together. – Walt Disney."
This is one of my favorite objects to photograph at Disneyland and I love that Walt's vision lives on through his parks and his movies. Thanks to this statue the man will be remembered along with his vision. Happiness Squared.
Goofy Trivia: Mickey Mouse debuted in Steamboat Willy, which is still one of the most fun Mickey Mouse cartoons ever made. Did you know that Walt Disney did the voice of Mickey Mouse from 1928 to 1947? I find that remarkable considering how busy he was creating animated movies and other projects. I think he loved Mickey so much that he wanted the voice to be as he envisioned it. If you haven't seen this fun cartoon set to Turkey in the Straw in a while then take time to watch it here in honor of Mickey Mouse's 84th birthday.