Limited Time Magic: This one is for Disneyland Annual Passholders. On Thursdays, February 7, 14, 21, & 28, passholders will get to stay at Disney California Adventure for an extra two hours after closing. This is amazing. You could ride Radiator Springs Racers over and over. I would probably go on California Screamin' several times and then do Soarin'. For more information click here.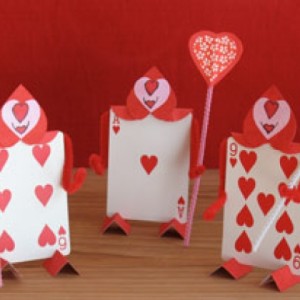 I realized today that February is here. It is the month of love and friendship, and what better way to celebrate Valentine's Day than with our favorite Disney characters. Instead of buying store-bought cards why not say "I love you" with a handmade card.  With spoonful.com there are lots of fun craft ideas.
I love to give books for any holiday and one way to make a book more personal is to add a handmade bookmark. This link has some unique ones that any Disney book lover would enjoy.
My favorite craft is the card soldiers from Alice in Wonderland. If you have a scrapbooking heart punch you can make an army in no time. Buy a couple deck of cards and you have a great group project for a scout troop, school craft, or party favor.
Spoonful.com always has fun printables and these cards and crafts for Valentine's Day are sure to bring smiles to everyone. Click here to see all the crafts and recipes. Happiness squared.
Goofy Craft: If you like the card soldiers as much as I do than you might enjoy some more Alice in Wonderland crafts. These crafts are from the live action movie which I really liked. Click here to see what awaits and beware of bottles that say "drink me."