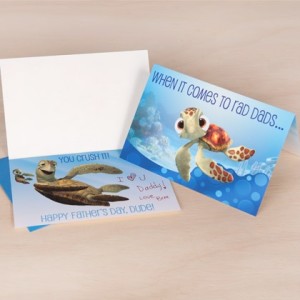 It is time to celebrate Dad and spoonful.com has great gift ideas for any father. I know from personal experience that Dads love to get handmade items from their children. My dad still has gifts I made him 30 years ago. When I asked him why he kept the farm silo music box I made for him out of an oatmeal box, complete with a ceramic pig, he told me that he has always treasured it. What a great Dad!
My love of Disney comes from my Dad which is why I know he'll love the handmade Crush and Squirt card. I'm adding a Mickey and the gang frame with a picture of us on the monorail. I find that photos always make great gifts. My dad is retired but any working dad would love the "whistle while you work" plague. It would be perfect for my dad's workshop.
Look through these 35 ideas and see if any of them would be the perfect gift for your dad. There is something for every type of father from sports loving to book loving. These gifts are a great way to make new Disney memories with Dad. Happiness squared.
Goofy Movie: What is the best father/child Disney movie? Finding Nemo,
 of course!!! This movie is full of Dads who love their kids. Why not celebrate Father's Day by cooking a special meal for Dad and watching Finding Nemo with the whole family? Dude!!!