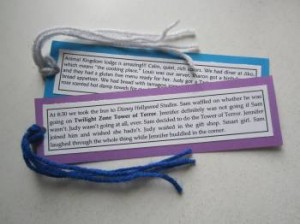 If you have been reading this blog for a while you have probably noticed that I like to tuck items in books. I love opening a book and finding a photo or piece of memorabilia that I had forgotten about. It always brings back happy memories. I was wondering how I could tuck parts of my trip journal into a book and decided that a bookmark would be ideal. These would make a great gift to those people who traveled with you on your Disney vacation. Every time they go to read a book they'll be reminded about a happy part of their trip.
Journal Bookmarks
Supplies
Colored strips of paper White card-stock rubber cement yarn  
Direction
1) Pick a short entry from your travel journal. Type it into a word box in a word processing program. Adjust the box so it is six or seven inches long and an inch to an inch and a half wide. Place a thin frame around the word box. Format it as much as you would like.   2) Print out your journal box on white card-stock and cut it 1/4 inch from the outside of the frame. Cut out a colored strip of paper that is 3/8 inch wider on all sides than your journal box.   3) Glue the journal box to the colored strip. The rubber cement will dry quickly. Punch a hole in the top if you want to and attach two pieces of yarn as long or as short as you like. Tuck it into a book for a memorable souvenir.  
This makes a lovely gift. If you don't have any journaling ready than ask your group for their favorite memories. You'll be reminded of happy times every time you peek inside that book.
Goofy Craft:
Here are five other topics you can put on your bookmarks. The sky is the limit.
1) The food you ate at a great restaurant 2) A list of the rides you rode on 3) A favorite quote from a ride, song, or person 4) A list of animals you saw at Disney's Animal Kingdom 5) A drawing done by a child of their favorite memory