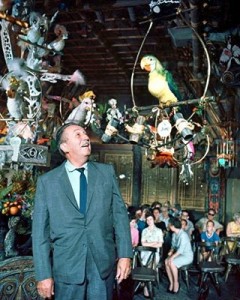 Yesterday, June 23, the Enchanted Tiki Room had its 50th anniversary. This is one of the classic attractions at Disneyland and the Magic Kingdom. Although it did not exist when Disneyland opened in 1955 it was a project that was dear to Walt Disney. He loved audio-animatronic figures and imagined many different ways that the technology could be used. Birds were an ideal format and thus the Enchanted Tiki Room was born.
Lots has been written about this attraction in honor of its anniversary. Disney Parks Blog has done several posts and The Disney Blog provided even more information. Here is some of my favorite Tiki trivia.
5 fun feathery facts about the Enchanted Tiki Room:
1) 225 singing birds, flowers, and Tikis perform during the show. That is a lot of audio-animatronic technology.
2) There are over 60 tropical birds singing in the show. Listening to them is a real tweet.
3) In 2005 the original soundtracks were restored and new speakers were installed so the birds sound more beautiful than they used to.
4) The Tiki Gods who do the pre-show are designed after real Polynesian and Hawaiian gods. Click here to see the list of gods used and where they are from.
5) When the show first appeared in 1963 it was worth more than an "E" ticket. You had to pay 75 cents to see the show. This was cutting edge technology.
I always go see the Enchanted Tiki Room when I visit the parks. I even saw it when it was "Under New Managemant" at the Magic Kingdom although I am so glad that variation no longer exists. Iago was annoying. However, the original show has a timeless quality to it with the punny birds, the lovely music, and the tropical flair. My favorite part is when the gods get upset and do their musical number. I hope that The Enchanted Tiki Room sees another 50 years. Happiness squared.
Goofy Tips: Okay, this may be sacrilegious, but I had my first Dole Whip in 2012 and I have been visiting the parks since 1977. The lines always seemed long and I didn't know what the big deal was. Don't make my mistake. Get in the line. It is worth it. If you are in the parks on a sunny day this is the perfect afternoon pick-me-up. I didn't know pineapple was so refreshing. Do not miss this iconic Disney treat. There is a reason why it is famous. Find out for yourself.