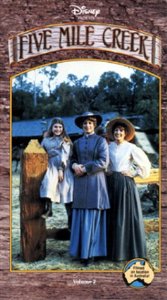 When I was a kid my favorite channel on cable was the Disney Channel and for awhile my favorite show on the Disney Channel was Five Mile Creek. Did you ever see this TV show? It ran from 1983 to 1985 and was about a group of people running a stage coach station in the wilds of Australia. It was a very popular show on the Disney Channel and I never missed an episode.
Some shows that we watch as kids we enjoy but they do not influence us much. Others press into the back of our minds and wait to become important many years later. Obviously I am a Disney fan so the Disney Channel influenced my adult life, but Five Mile Creek also had an impact I was not aware of.
A few years ago a friend and I wrote a western together. She hadn't seen or read a lot of westerns so I rented Five Mile Creek on VHS for her to watch. As I rewatched it for the first time in twenty-five years it seemed really similar to the a Louis L'Amour book we were using as inspiration for our story. When I got to the credits I saw something I'd never noticed before, at least consciously. Five Mile Creek was based on The Cherokee Trail, the Louis L'Amour book we were using.
I was surprised to learn this because except for the stage coach and the women our story was completely different, but it was obvious that Five Mile Creek and the Disney Channel and influenced my ideas for the project. Knowing this didn't depress me. Instead it encouraged me. I wanted to write a story as fun as Five Mile Creek. I think we succeeded.
So today, I encourage you to take a look at your childhood entertainment. Walt Disney believed that everyone should explore the world as children do and I agree. Maybe there is a TV show or a book that could be the solution or inspiration you need to finish a project. Maybe something that you loved as a child is waiting for you to rediscover it. Happiness squared.
Goofy Quote: (I'm sure this is why I read so many books. No, I probably just like to read.)
"There is more treasure in books than in all the pirate's loot on Treasure Island." Walt Disney