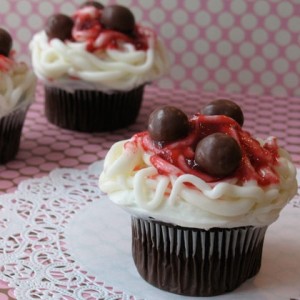 Goofy. Pluto. Zero. Lady and the Tramp. Walt Disney obviously loved dogs since he created so many memorable canine characters. Why not celebrate Disney dogs during the dog days of summer? Spoonful.com has cool crafts and recipes that will have you howling with delight.
Cupcakes are all the rage and spoonful.com has two different types with dog themes. If you are looking for some fun try the dalmation cupcakes. If you want something a little sweeter serve the spaghetti and meatball cupcakes inspired by Lady and the Tramp.  Either will be drool worthy.
Crafts are always a fun thing to do at a party and everyone will have something neat to bring home. These items are much more appealing than a cheap plastic party favor. I like doorknob signs and kids can choose between Goofy and the dogs from Up. With these craft ideas there is something for everyone.
So why not have a party to celebrate the end of summer or the start of a new school year. Dogs makes a fun theme and everyone has a favorite Disney dog. Surprise! Mine is Goofy. I bet you'd never guess. Happiness squared.
Goofy Tip: It is not hard to make spaghetti and meatball cupcakes but it does take time. If you want to enjoy the cupcake without doing any of the work then have a meal at Mama Melrose's Ristorante Italiano at Disney's Hollywood Studios. The spaghetti and meatball cupcake is one of the dessert items available. These cupcakes are big so you might want to share.