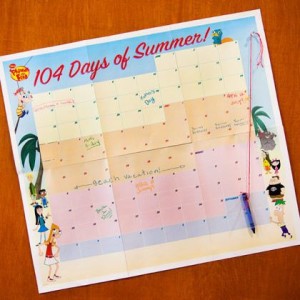 Summer is officially here. I always think summer starts June 1st, but the calendar puts it on today so who am I to argue. My thoughts have turned to vacations, Independence Day, and lazy fun. Soon I'll be thinking of Christmas gifts (yes, I start early) but for now I want to do sunny crafts. Of course, the first place I look for ideas is at spoonful.com.
I really like these summer printables because they are very useful. From a three-month Phineas and Ferb calendar to help you plan your summer, to a summer wish list, these crafts will help you have the most fun summer ever. There are toys to make, pages to color, and lots of decorations that will remind you of the beach. These crafts are the perfect cure to the "I'm bored" complaint. No one should ever be bored during summer. School will be here way too soon. Happiness squared.
Goofy Craft: Monsters University is coming to theaters soon and Disney is celebrating a Monstrous Summer at the parks. You can also have a monstrous summer with lots of Mike and Sully crafts from spoonful.com. Any day is a good day to scare up some fun.