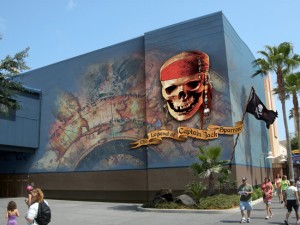 It is rare that Disney can surprise Guests with a new attraction. Due to visible construction and a desire to build anticipation it is pretty obvious when something new is being designed. So when I first heard the news that a Jack Sparrow attraction was being added to Disney's Hollywood Studios and was going to open December 6, 2012 I was hopeful, yet skeptical.
However, the Disney Parks Blog just did a small post about it so it much be true. No one is saying much right now, but it appears a cool new pirate attraction is about be revealed.
From the little bit I have read it seems that Pirates of the Caribbean: The Legend of Jack Sparrow will be an interactive walk-through attraction. You'll have the chance to prove you are worthy to sail with Jack Sparrow and see various pirate scenes come to life.
I think it sounds thrilling and I expect there will be big crowds at Disney's Hollywood Studios this winter. There are so many awesome attractions at Disney's Hollywood Studios already that I don't need another reason to go, but the next time I am there this attraction will be at the top of my list.  Arrrgh!!! Happiness squared.
Goofy Tip: Do you love mermaids? Did you think the mermaids in Pirates of the Caribbean: On Stranger Tides were the best part of the movie? Well, the mermaids have now arrived at the Pirates of the Caribbean attraction at the Magic Kingdom. Keep a sharp eye out for them, but be cautious of their good looks and haunting song, or else you'll end up in Davy Jones's Locker!