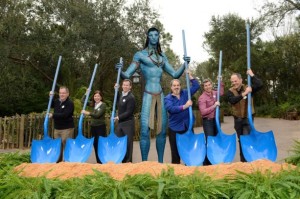 And no, I'm not talking about Smurfs. For the past year there has been talk of bringing the tall blue natives of Pandora from the movie Avatar to Disney's Animal Kingdom. Well, the talk has ended and the digging has started. Na'vi-sized shovels were used for the groundbreaking ceremony. Blue people everywhere cheered. I just shook my head.
Okay, if the above paragraph confused you, let me explain. Disney's Animal Kingdom was always supposed to include a fantasy area, where imaginary animals would live. This plan is finally coming to fruition in the area that was Camp Minnie Mickey. This was a mostly unused part of the park so I like that they are going to utilize it. I am not excited about Avatarland but I am resigned and am sure it will be a bit hit.
My apathy is mostly because I didn't like the movie. I saw it once in the theater with 3D glasses and I was bored. It was really predictable and the characters were very 2d even though the movie was 3D. However, I can see how it could be turned into a world where people can explore Pandora and fly on magical creatures. My hope is that everyone will visit this new land so I can go ride Expedition Everest with no lines.
No one asked me my opinion but I would have loved to see the Endor Moon built at Disney's Animal Kingdom. Ewoks are way cuter than the Na'vi and Disney owns the Star Wars franchise so it would not have to pay James Cameron for the rights. But it's too late now so I hope that a Disney spin on Avatar makes it as amazing as the rest of the Disney universe. Happiness squared.
Goofy Tip: If you are excited about visiting Pandora you'll have to wait until 2016 or 2017. However, if you want to see how wonderful it will be check out this video from the Disney Parks Blog. The Imagineers have some big ideas that will turn Disney's Animal Kingdom into a great nighttime park, which is it not at the moment.