In this new series I suggest attractions at Walt Disney World and the Disneyland Resort that will appeal to those Guests who dislike traditional amusement park rides. There may be many reasons why someone can't or won't get on a ride. They may be too short, too heavy, or too big. They may have medical problems or be pregnant. Or they may just dislike fast rides and long lines. No matter the reason everyone deserves to have a happy time at the Disney parks. The following attractions can be enjoyed by everyone and may even bring a smile to the most reluctant Guest. Today we will explore Disney's Hollywood Studios.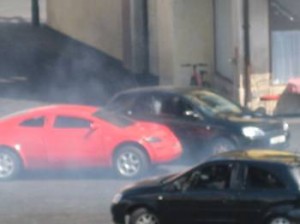 Disney's Hollywood Studios has some of the best attractions in any of the parks. From Tower of Terror to Star Tours the most thrilling rides can be found here. Does that mean that Guests who don't like fast scary rides should avoid Disney's Hollywood Studios? Absolutely not. For every breathtaking (literally) attraction there is a breathtaking show that you must not miss. The shows only play a few times each day so be sure to check the event schedule so you can arrive early and get a good seat. Save one for me.
5 Disney's Hollywood Studios attractions for people who hate rides:
1) Lights, Motors, Action! Extreme Stunt Show. If you have ever wondered how they make those awesome chase scenes in movies than don't miss this show. Under the guise of filming a car chase scene in France you will learn a lot of secrets that make these movies so fun. Have your camera ready because you will want to capture the action as cars leap over each other and drive in amazing and dangerous routines. Oh yeah, and Lightning McQueen makes a guest appearance to greet all the Cars fans.
2) Muppet*Vision 3-D. If you like the Muppets on TV then you will love seeing them on the big screen in 3-D. The gags are just as funny (or not) and everyone's favorite Muppet gets a scene. The ending is as chaotic as any Muppet show should be and the 3-D gags will have you trying to touch the screen. This show is on my must-see list whenever I visit Disney's Hollywood Studios.
3) Indiana Jones Epic Stunt Spectacular. Stunt shows are always fun, but toss in everyone's favorite fedora wearing adventurer and you get something special. Scenes from Raiders of the Lost Ark are used to show off the stunts and members of the audience get to participate. This is a fun and heart-stopping look at what makes a great action movie.
4) Magic of Disney Animation. I always say I can't draw good stick figures and that is true, but with the help of a Disney animator I can sketch a pretty accurate Disney character. This unique class takes place on the hour and the half hour and at the end you will have a sketch made by you. I've drawn Mickey Mouse, Winnie the Pooh, Daisy Duck, and Minnie Mouse. I have so much fun doing this that I recommend everyone give it a try. Besides the great experience you have a fun souvenir to take home. Too cool.
5) Fantasmic! One, don't miss this imaginative show about Mickey's dreams and nightmares. Two, show up early to get a good seat and beat the hoards of Guests who will try to get in at the last minute. The best viewing area is directly in front of the stage and it is worth it to get one of these seats. Bring a snack and relax. This is the best show in the park and the combination of favorite Disney memories, water effects, pyrotechnics, and great story will have you remembering Fantasmic! for years to come.
I said before that Disney's Hollywood Studios has great thrill rides. I hope you see now that it also has great shows. Fill your day with these events and you'll want to come back again and again. Happiness Squared.
Goofy Tip: If you have a little time before arriving at Fantasmic! but don't want to go on a ride then I recommend seeing Beauty and the Beast -Live on Stage. This show brings the movie to life and the stage is right next to the entrance to Fantasmic! You can enjoy the show even if you are toward the back, so watch the show and duck out quickly to get a good seat at Fantasmic!