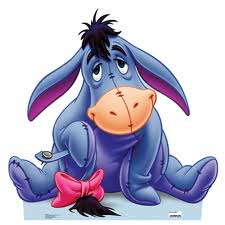 It's Friday and I want to bring you something entertaining and cute. Here is a quiz from Oh My Disney that will tell you if you are like everyone's favorite donkey. I know you were wondering.
I am not like Eeyore. I am probably a combination of Pooh and Owl. Are you like Eeyore? Click here and find out. If it turns out you are than celebrate! You are special. Eeyore may be gloomy but he is a great friend and he is surrounded by great friends. I also suggest you carry a nail in your pocket in case someone takes your tail and uses it as a bell pull. Happiness squared.
Goofy Quote: Eeyore can be very optimistic when he wants to be. I think I'll remember to use this some day.
"It's snowing still," said Eeyore gloomily.
"So it is."
"And freezing."
"Is it?"
"Yes," said Eeyore. "However," he said, brightening up a little, "we  haven't had an earthquake lately."