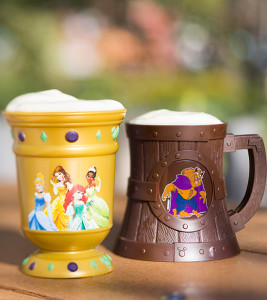 There has been a lot of talk about New Fantasyland at Walt Disney World. It really is a remarkable place, but what about Disneyland? Don't the Guests at that park deserve a magical place to meet their favorite princesses and enjoy frothy drinks in unique mugs? I think so and so did Disney, so they pushed out the boundaries of Fantasyland and created Fantasy Faire.
When you walk into this new area next to Sleeping Beauty Castle you will feel like you walked into your favorite Disney princess movie. Along with gorgeous architecture there are lots of interactive surprises waiting for you. Don't rush through on your way to meet a princess. Take time to touch things and discover the magic of the Faire.
But if you do want to meet a princess don't miss the Royal Hall, the new gathering place for Disney royalty. With great backgrounds and lots of princesses to choose from you'll be sure to get a picture worth framing.
For more fun head to the Royal Theatre. There you can check out a performance of either Beauty and the Beast or Tangled. If you have never seen these wonderful musicals based on the movies you are in for a treat. I could watch them again and again. They bring the story to life.
One of the reasons I wanted to go to New Fantasyland at the Magic Kingdom was for the food and drinks. I love trying new concoctions and bringing home a specialty cup. Well, now those same drinks can be found at Maurice's Treats in Fantasy Faire. I can't wait to try Boyson Apple Freeze (I'm glad it's not Poison Apple Freeze!) in a princess goblet. There are lots of food treats to be taste-tested also.
Every Guest will feel like royalty at the Fantasy Faire and it is sure to be a hit for years to come. It is also bound to be a busy section of the park so plan to arrive early, or be prepared to wait in line. With so much to see that may not be such a horrible thing. Happiness squared.
Goofy Tip: Want to get away from crowds and see something that most Guests miss? Enter Sleeping Beauty Castle and take a walk through Aurora's home. As you climb the stairs and enjoy the cool, dim hallways stop at the windows and read the story of Sleeping Beauty. There are wonderful dioramas that bring the story to life. Beware of Maleficent's henchmen!