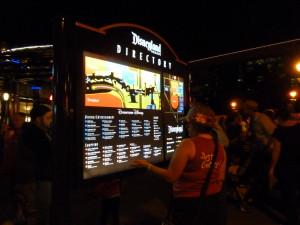 No one who knows me would say I am an adult. Well, I guess I am an adult because of my age, but I am definitely not grown-up. So how can I write a series on adult things to do in the Disney parks? I know a lot of adults and if I was visiting the parks with them I would recommend these ideas. The fun part is that the five ideas I have listed work for both grown-ups and those of us who never grew up.  My short list works for those adults who don't want anything Mickey Mouse. Why would they go to a Disney park, you ask? Because the parks are for everyone. Today we'll visit a more adult park, Disney California Adventure.
Unlike Disneyland it is easy to find lots of adult activities at Disney California Adventure. Unlike Disneyland you can even enjoy an alcoholic beverage at Disney California Adventure. I recommend you visit this park at opening for the foreseeable future because everyone is going to head over to Cars Land. If animated characters are not your thing than you can enjoy the rest of the park without huge crowds.
There are lots of adult activities at Disney California Adventure but I am just going to name five. These are not necessarily the top five, but they are a great way to see the park and maintain your adult status.
5 fun activities that adults can enjoy at Disney California Adventure:
1) Shop Buena Vista Street. Buena Vista Street is sort of like Main Street, U.S.A. but for Disney California Adventure. Instead of walking through turn-of-the-century middle America you are exploring Hollywood in the 1920s. There are lots of great stores filled with vintage items. It is fun to browse through merchandise that you don't see anywhere else.
2) Dine at the Carthay Circle Restaurant. There are many great restaurants at Disney California Adventure. If you head over to Pacific Wharf you can have your pick of many enthicities. But if you want a very special meal in a very special setting than I would made reservations for Carthay Circle Restaurant. This is fine dining at its best. I was serious about the reservation. Despite its high price this is a very popular restaurant because the food and the ambiance are superb.
3) Stay away from "a bug's land" and Cars Land. Both of these areas are fun and bring the movies to life, but they are also the most popular areas for young children. The attractions in "a bug's land" especially are designed for children under six years old. Most of the attractions outside these areas are perfect for teenagers and adults and many of them have height restrictions so young children can not ride them.
4) Take the Bakery Tour, hosted by Boudin Bakery. When I was in San Francisco I had a great time learning how sourdough bread was made. You can have the same fun at Disney California Adventure by taking the Bakery Tour. During the tour you'll get to see bread being made on site and then sample some at the end. Sampling is always my favorite part. This is a great idea for hot summer days since it keeps you indoors and out of the sun.
5) Enjoy Soarin' Over California. There are lots of rides that adults will enjoy at Disney California Adventure, but Soarin' is unique. With your seat high off the ground you will feel like you are flying over the beautiful scenery of California. This multi-sensory ride is perfect for any adult. And when you are done you can enjoy a beer at the Taste Pilots' Grill next door.
As I said there are many more grown-up activities at Disney California Adventure that will please any Guest trying to avoid the mouse. The vintage Hollywood vibe can take you back to yesteryear, when the men all wore hats and the women all wore skirts and trolley cars kept the city moving. Happiness squared.
Goofy Tip: If you are looking for the ultimate adult area at the Disney parks head over to Downtown Disney. This free area has lots of great shops, restaurants, and entertainment. It is a great place to hang out after a day in the parks or to go to when you want some enjoy a great meal and music with your friends.