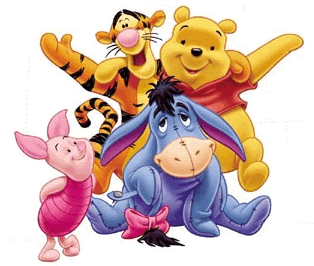 Today I walked, as I often do this time of year, through the gray gloom to get my mail. It was spitting rain, and I had a cold, and I wondered if winter was ever going to leave. I was feeling very much like Eeyore.
As I turned the corner of my driveway I saw hundreds of daffodils pushing up through the pasture. They haven't bloomed yet, but seeing them growing where they had not been before brightened my mood. Spring is coming. The daffodils are growing. I was so happy I broke into an impromptu song as Pooh would do.
I am not a huge fan of poetry. Call me weird, but I like my poems to rhyme and so much modern poetry does not. I have a couple of poetry books that I have read since I was a child. A. A. Milne, the creator of Winnie the Pooh, wrote two book of poetry that are kind of a prologue to Christopher Robin's life in the Hundred Acre Woods. To celebrate my first glance of daffodils I'd like to share with you a poem from When We Were Very Young
. I hope it brings a bit of spring to your weekend. Happiness squared.
Daffidowndilly
She wore her yellow sun-bonnet,    She wore her greenest gown; She turned to the south wind    And curtsied up and down. She turned to the sun-light    And shook her yellow head, And whispered to her neighbor;    "Winter is dead."  
Goofy Book: If you are looking for a gift for a child, or if you like poetry that rhymes, check out these two books by A.A. Milne. When We Were Very Young
and Now We Are Six
were inspired by Christopher Robin, but cover many wonderful topics about childhood and the child in all of us. They are best when read out loud, so do not hesitate to stand in a field of daffodils and perform for all to hear. The world will be a better place.
For great tips that you can take with you on your tablet or smart phone download the Kindle app and buy a copy of Goofy Tips for a Happy Disney Vacation
. For 99 cents you'll have hundreds of great ideas for visiting the Disney Parks only an app away.